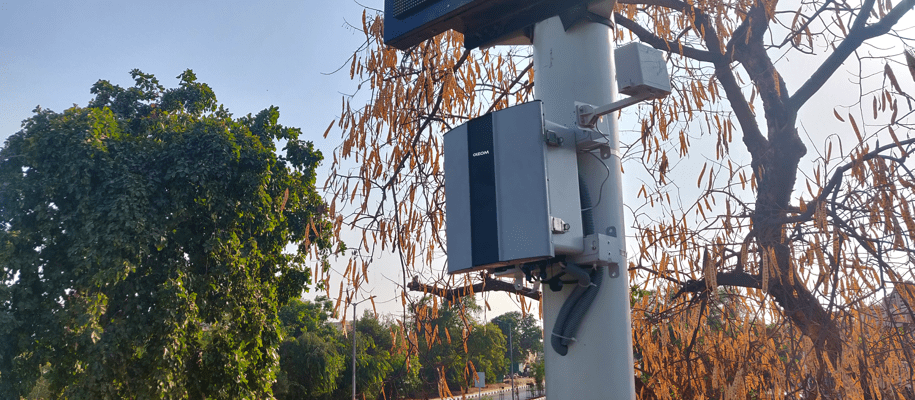 Smart cities are developed with a vision of creating an advanced world. Where technology meets sustainability. Where people get a better quality of life with a harmonious community living. Government and people work hand-in-hand to make this happen.
One of the main aspects of smart city solutions is a clean and green environment. With continuous evolution in an advanced way of living, man-made activities have been increasing at an exponential rate. These activities are the primary reason for environmental degradation and create a need to keep human-made pollution in check. Air quality monitoring Stations in Smart city Solutions plays an important role in identifying over all air quality exposure in the urban cities.
Oizom realizes the gravity of the situation and has taken steps to act upon it. The real solution lies in getting to the root of the problem, i.e., identifying the source of the pollution. The key to identifying sources is data. By installing real-time Air Quality Monitoring Systems at pollution hotspots we gather hyperlocal environmental data. Creating hi-resolution real-time pollution heatmaps will give a clearer picture of the intensity and scale of air pollution.
The smart cities council of India states that the 'Environmental' pillar of Indian Smart cities stands for combating climate change, pollution, disaster management, and driving the city growth.
Monitoring Climate Change: Oizom Weathercom is a solution to monitor minute changes in the weather. Using prolonged data, long-term changes in the climate can be monitored. Oizom Air Monitoring Systems can also monitor green-house gases like CO2, CO, Ammonia (NH3), and Methane (CH4). Based on this monitoring, the impact of greenhouse gases on climate change can be predicted with better accuracy.
Urban Air Pollution: The urban cities have air pollution coming majorly from vehicular emission, thermal power plants, industries. Polludrone is working efficiently in monitoring these sources and their emissions to quantify the pollution in the city's environment in real-time. On-time pollution tracking helps in taking immediate action.
Disaster Management: Oizom is successfully monitoring all weather parameters through Weathercom to observe any nuances before they turn into hazards. Wind & lightening monitoring can predict thunder-storms and flood-monitors can monitor rapid change in the water-levels in rivers and canals passing through the city. Such alerts can be used to warn citizens through public announcement systems.
City Specific Monitoring: All smart cities have their own specific major issues to solve. Oizom offers customized solutions to each city. Some cities like Delhi may have excessive air pollution. Another Oizom product Odosense measures harmful gases in the environment which is useful in industrial areas and also for landfills and dump yards in cities like Mumbai. Excessive dust is another problem in cities having mines and quarries and Oizom Dustroid takes care of that by monitoring all particulate matter in the air.
What are the environmental problems of smart cities?
Although the cities are moving forward towards high-end solutions, one sector usually deprived of technology attention is our environment. The pre-existing manual air monitoring systems are outdated and provide data after weeks and in some cases, even months. Some of the issues of manual Air Quality Monitoring Systems are:
Data acquisition and analytics: The system is manually operated and data acquisition is possible only after weeks. On-time assessment of pollution scenarios is not possible through manual systems, delaying data analytics, and decision-making processes.
Accuracy & drift: Weather factors like temperature and humidity have adverse effects on sensor sensitivity. The sensors become less sensitive for measuring chronic pollution owing to smaller particulate in the air. Also, the measuring capability of the sensors tends to degrade with time, especially when exposed to extreme ambient conditions for a longer period.
Scalability: Manual Air Quality Monitoring Systems are huge and bulky. It's not possible to install them at every place. The constraint restricts ubiquitous air monitoring, which is highly needed today.
These reasons lead to poor and misled data generation, affecting the decision-making by the authorities. It all increases the cost expenditure towards environmental monitoring in the smart cities, rendering the projects often unsuccessful.
The solution lies in IoT
The advanced way of monitoring today's environment is incorporating the Internet of Technology. To simplify the concept, it is the extension of network connectivity and computing capacity to objects, sensors and everyday items. This amalgamation makes the day-to-day life or dumb objects smart by infusing the capability of generating, exchanging and consuming data with minimal human intervention.
Incorporating IoT (Internet of things) based air quality sensors enables authorities to collect and transfer data on near real-time bases. IoT-enabled environmental sensors are capable of real-time data monitoring, providing the need of the hour. Delayed data interpretation is now almost redundant.
Oizom's Air quality monitoring systems in smart cities
Oizom aimed for a 'one-solution-for-all' technique to combat the situation in smart cities. Oizom's flagship product Polludrone monitors all the pollutants present in the ambient air. It is capable of monitoring up to 30 different environmental parameters. Data accuracy is the key to any Air Quality Monitor. Polludrone's Active Sampling Technology ensures the highest environmental data accuracy. Here are some of the highlighted Oizom device's features.
Compact in Size: Oizom devices are compact in size and easy to install. The compact devices comprise multiple sensors for sensing various pollutants like particulate matter, harmful gases, and weather parameters.
Real-time data connectivity: Oizom Air Quality Monitoring Systems can monitor and send data on the visualization platform in real-time or near real-time bases. The data frequency can be easily configured remotely
Advance data Analytics Platform: Oizom's IoT data platform offers various data analytics and accessibility features. Detecting pollution hotspots and major pollutants helps the authorities take correct and calculated decisions, evaluating the scale of the pollution.
Oizom's IoT Data platform offers multiple ways for data accessibility. This enables decision-makers to take data-driven actions based on real-time data analytics. By identifying pollution hotspots suggestive actions for mitigation can be offered.
Data Accuracy: Oizom systems are powered by advanced algorithms to eliminate the effect of cross-sensitivity and environmental changes. The sensors can be calibrated on-field or in labs to reset their measurement ranges, drift errors, thus, ensuring the data accuracy.
Assisting policymakers: Through our data analytics and the suggestive solutions, we are helping the policymakers and the governmental authorities to make instant decisions and prevent any human-made catastrophe. They get a holistic approach and targeted solutions.
Scalability: The compact size and cost competitiveness enable Oizom equipment to create a dense network of data points.
Polludrone Air Quality Monitoring Systems in Smart Cities
Oizom has installed Polludrone in five Indian smart cities till now – Surat, Varanasi, Agra, Gandhinagar, and Kakinada. These are the cities under the smart cities mission of India and are implementing the guidelines to achieve the objective. Oizom is helping them achieve one of their objectives – a clean and sustainable environment with the help of smart technology.
Surat – Due to the increased influx of migrants in Surat from different cities, rapid industrial developments have led to a rise in emissions. Oizom Polludrone was installed on the smart pole to collect air samples. Pollutants such as PM2.5, PM10, CO2, CO, SO2, NO, NO2, O3, along with temperature and humidity were measured through the plug-and-play device across the city. The project helped in identifying the main emission sources and taking immediate action.
Gandhinagar – The city was looking for sustainable growth and public awareness of environmental health. Oizom offered customized solutions to study the pollution trend. The solution monitored and analyzed particulate matters PM2.5, PM10, and gases SO2, NO2, CO, CO2, O3, and O2. Polludrone monitors environmental data in dynamic weather conditions. Through the data obtained, the government is successful in awaring the people about it.
Agra – Where Agra is awarded the best smart city in India, the crop burning in rural areas and increased tourism continue to increase the pollution level significantly in the city. It is also impacting the integrity of the historical monuments. Installing Polludrone throughout the city gave open access to the environmental data to the authorities. The solution located the source of origin through reverse modelling, allowing the authorities to visualize the air quality in real-time and act accordingly in case of a pollution breach.
Varanasi – The infrastructural developments and tourism in the city have increased pollution in the city. Oizom stepped in to provide an end-to-end solution to both their pollution and waste management problems. Through the solution, the effect of increased tourism can be analyzed quantitatively and qualitatively to establish a contingency plan for tourism and waste generation.
Kakinada – The increased urbanization and development have put more vehicles on the road of the city, lack of proper sanitation drive and inefficient data on environmental conditions. With Polludrone's sufficient environmental data, authorities can make policy changes to build a sustainable smart city. Through the solution, Kakinada authorities reduced the total environmental monitoring cost by 50%.
IoT-driven environmental solutions have driven the environmental monitoring field to a new path. The new effective, feasible, and affordable solution has enabled community monitoring. The smart cities need local community monitoring for obtaining large and hyperlocal datasets. Getting a broader picture of the city pollution helps in implementing a citywide solution. The true implementation of a Smart solution in a city is considered when it is accessible by every citizen of the city. Oizom envisages creating an environment understandable and predictable for the citizens so that they can take data-driven actions to mitigate and abate the problem of pollution.
You can check our use-case document on Air Quality Monitoring Sensors for Smart City Infrastructure to learn more about IoT air quality monitoring in smart city solutions. You can also refer to our product range in the related product section below.