Airborne particle generation poses a major problem in mining, construction, heavy civil/earthworks. The workplace environment in these industries is prone to health risks from airborne dust. Thus, all the workplace safety standards surrounding these industries greatly emphasize an effective dust monitoring equipment and dust control strategy.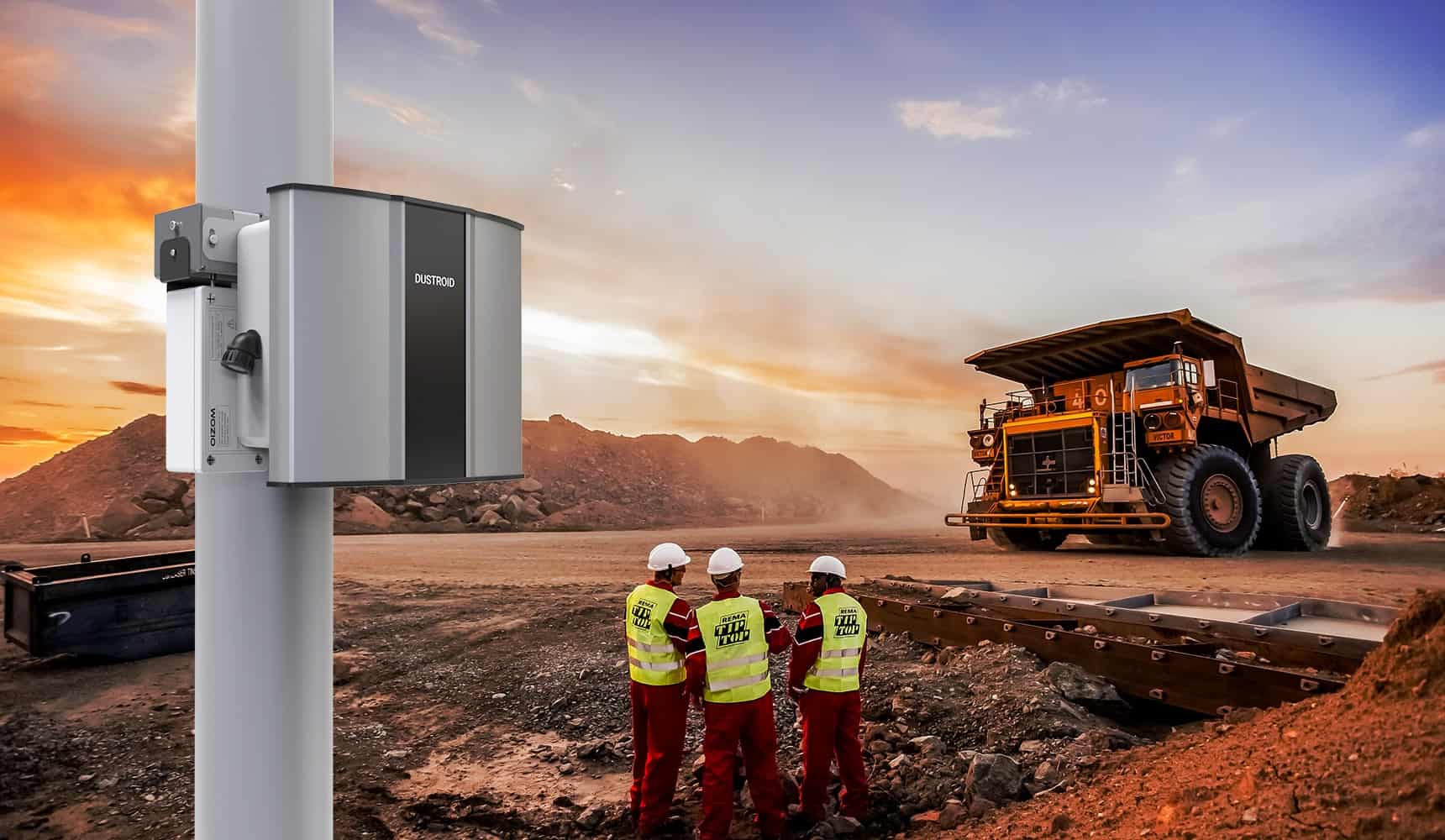 The Particulate Matter (PM) produced from explosions, material transfer, vehicular traffic, diesel generators set around mines, quarries, construction sites falls in the range of 1 to 100 microns.
WHAT ARE THE OUTCOMES OF EFFECTIVE DUST MONITORING?
Real-time air quality assessment
Identification of heavy dust generating sites
Dust control program strategy around the site
Implementation of dust mitigation measures
Clearly, we can see the benefits of implementing a dust monitoring system in sites with heavy dust production. However, choosing the right dust monitoring equipment can be a difficult task at hand. As you may have noticed, the size and range of the Particulate Matter vary with different applications and sources. Deciding which Dust Monitor to go with requires evaluation of your requirement and end-application.
At Oizom, we have designed Dustroid for the specific requirement of Dust Monitoring. Its versatile range and different variants are specifically designed and manufactured for various applications such as construction, mining, quarrying, seaport monitoring, etc.
Oizom Dustroid is a reliable Online Dust Monitoring system to measure Particulate Matter in the ambient air. It is capable of monitoring particulate size ranging from 1 micron to 100 microns, such as Total Suspended Particulates (TSP – 100 micron), Suspended Particulate Matter (SPM – 10 microns), Respiratory Particulate Matter (RPM – 2.5 micron), and Ultra-Fine Particulate Matter (UFPM – 1 micron). Checkout the Dustorid Product Page for more info here.
The question arises, which Dustroid model should you opt for? We frequently get asked this question by our partners and customers. This blog is a guide to help you choose the right Dust monitoring device based on your application.
FEATURE COMPARISON
Oizom has 3 different models of Dustroid – Lite, Smart, and Pro. Each variant is specifically designed keeping in mind its different applications. For example, Dustroid Lite is used for dust monitoring in Urban applications such as outdoor air quality measurement for personal or indicative use in real estate, campuses, schools, etc. Dustroid Lite measures PM2.5, PM10, T-H (Temperature and humidity).
Major airborne particle generating industries find Dustroid Smart and Dustroid Pro more suitable based on the range of Particulate Matter. Looking at their parameters, you might think both Dustroid Smart and Pro measure PM2.5, PM10, PM100, Temperature, and Humidity. How does one determine which one is ideal for the requirement? Let's dig deeper into what differentiates both the variants and how to choose the optimal one to suit the purpose.
The table here illustrates feature-wise differentiation for Dustroid Smart and Pro.
| | | |
| --- | --- | --- |
| Features | Dustroid Smart | Dustroid Pro |
| Type | Commercial | Industrial |
| Application | Urban Monitoring & Research Purposes | Mining, Construction, Industrial Monitoring, Sea Ports |
| Parameters to be measured | PM1, PM2.5, PM10, T-H | PM2.5, PM10, PM100, T-H |
| Range | PM2.5: 0-1000 μg/m3PM10: 0-1000 μg/m3PM100: 0-20000 μg/m3 | PM2.5: 0-2000 μg/m3PM10: 0-3000 μg/m3PM100: 0-30000 μg/m3 |
| Size (HxWxD) | 260mm x 328mm x 160mm | 260mm x 328mm x 160mm |
| Weight | 6.5 Kg | 6.5 Kg |
| Sampling | Active sampling "e-breathing" technology | Active sampling "e-breathing" technology |
| Mechanical Humidity compensation | Algorithm based compensation | Yes |
| Self-cleaning | No | Yes |
| Calibration | Yes | Yes |
| Lifetime | 1 year | 3 years |
| Sample flow rate | 0.7 L/min | 1 L/min |
WORKING PRINCIPLE
Both the variants work on Laser Scattering technology with a highly accurate laser beam.
Laser-scattering technology measures particle size distribution and concentration in the sample. When a laser beam emitted from the sensor hits a particle, it gets scattered in all directions. Larger particles scatter the light at relatively smaller angles than the smaller particles. The angular scattering intensity from the particles is analyzed to measure the particle size and concentration of different particles. Concentration is reported in the microgram (µg) of particles present per unit volume of the air sample.
Key Differentiator
Both Dustroid Smart and Pro work efficiently in high temperatures. The operating temperature of both Smart and Pro variants is -20 °C to +60 °C. However, Dustroid Smart is suitable for medium to high dust concentration applications, as the measurement range is a bit limited than the Pro variant.
The choice of equipment significantly depends on the humidity level of the location. That's the key differentiator between the two Dustroid variants. Dustroid Smart works best in dry to medium humid locations, whereas for high humidity and temperature along with heavy fugitive dust conditions, the Dustroid Pro variant is an ideal Industrial-grade Dust Monitoring equipment.
Along with a higher measurement range for PM2.5, PM10, and PM100, Dustroid Pro is more robust than the Smart variant. These exceptional features increase the cost of the Pro variant.
So, if the requirement is for indicative, strategising, and research purposes, one should opt for the Dustroid Smart variant. Whereas all industrial applications, dust off-loading and on-loading operations, stone mining, in which fugitive dust or total suspended particulate matter poses a major risk and adverse health effects, one should choose Dustroid Pro to implement the dust mitigation program.
KEY POINTS TO CONSIDER WHILE CHOOSING THE DUST MONITORING EQUIPMENT:
How about a quick recap? Below are some points to consider while choosing from Dustroid Smart or Pro:
Both the variants work on the same laser scattering working principle.
The Dustroid Smart is a little more compact than the Pro variant. Pro variant is a bit heavy due to its industrial-grade technology to reduce humidity and perform the self-cleaning operation.
Dustroid Smart and Pro both measure PM2.5, PM10, PM100. Although measurement ranges and resolutions are different, Dustroid Smart has a shorter measurement range than the Pro variant. Dustroid Smart works optimum in medium dust concentration areas, while Pro efficiently operates even in higher humidity and heavy dust concentration areas.
A lot of factors come into play together for deciding the right monitoring equipment. Different criteria may favor different Dustroid variants. Here are some of the factors influencing decision-making:
Cost: The major factor considered while planning a monitoring strategy is cost. For a limited budget, you can opt for Dustroid Smart, but if the budget is stretchable, you can get a more advanced version with additional features.
Application location: Monitoring devices are environment-dependent. Temperature, humidity, and pressure of the ambient air play crucial roles in choosing the device. If the location of the application project has a higher humidity level, temperature, and higher dust concentration, we recommend going with Dustroid Pro.
Calibration frequency: These sensor-based devices need to be calibrated regularly to account for the drift recorded with time. Dustroid Smart has a comparatively higher calibration frequency than Dustroid Pro. This is because Dustroid Pro is equipped with advanced technology to reduce entrapment of particles in the inlet with its self-cleaning operation and temperature humidity compensation at the inlet. Thus, it has longer calibration intervals.
Sensor lifespan: The sensor lifespan primarily depends on the surrounding environment. Heavily dust-laden areas will increase the chances of dust deposition. While the self-cleaning mechanism in the Dustroid Pro ensures the sensor life around 3 years, the sensor life span may be reduced to 1 year in the case of Dustroid Smart under such heavy dust prone areas.
SPEAK WITH OUR EXPERTS FOR YOUR REQUIREMENT
Oizom Dustroid has been designed specifically for geographies with high levels of particulate emissions. The rugged design can handle extreme weather temperatures from -20°C to 60°C. The inlet and suction are constructed such that the particulates do not accumulate on the device edges, hence, increasing accuracy and reducing the maintenance expenses.
Both the Particulate Monitors are capable to send near real-time data to the web-based air quality monitoring software. Air quality professionals can access and analyze the data from anywhere securely.
To sum it up, it all boils down to the application objectives of dust monitoring equipment. Defining the key monitoring requirement, that is, the main purpose of the plan should be the deciding step. For commercial purposes, one can opt for Dustroid Smart, and for industrial use, Dustroid Pro is the right choice.
We hope this literature will guide you in choosing the right Oizom dust monitor for your requirements. There are numerous applications where dust monitoring will play an important part. You can learn more about the Dustroid product range on the product page here.
Reach out to us for more information on Dustroid and its suitability for your requirements.