Accurate and Affordable Air Quality Monitoring Solutions
Oizom offers an end-to-end and scalable solutions for real-time air quality monitoring and advanced data analytics
"We've tested air quality monitors from across South Asia, Europe, and the US. Our best pick for outdoor air quality monitoring is Oizom."
~ Dr. Srikanth Sola, Devic Earth
Environmental Monitors for all the requirements
Real-time Ambient Air Quality Monitoring Applications
Oizom has a range of environmental monitors, each designed keeping in mind the various applications where monitoring air pollution is crucial. Through our real-time air quality measurement devices, we monitor various environmental parameters such as air quality, polluting gases, odourful and toxic gases, noise, weather conditions, radiation, etc. The collected data can be further visualized and analyzed for effective data-driven decision-making on the Oizom Data Platform. All Oizom products offer near real-time data that is accessible through various communication protocols such as GSM, LTE, WiFi LoRa, Sigfox as well as wired protocols like Modbus, Ethernet. Oizom air pollution detectors have low power consumption making them solar compatible.
We offer a comprehensive and scalable solution for real-time environmental data monitoring and analytics. Our sensor-based air monitoring system monitors environmental data and also sends it to the Oizom cloud using various wired and wireless connectivity. The data is made actionable by performing advanced analytics. Publishing of the  actionable environmental data on various mediums like Web App, Mobile App, Public Display, Website, Reports, Alerts, etc. is then possible. 
Patent Pending
Technology
Works on innovative e-breathing technology for higher data accuracy

Capable of running independently on solar power

Wide range of connectivity options such as GSM / WiFi / LoRa / NBIoT/ Ethernet

Automatically upgradeable from a central server without any onsite visit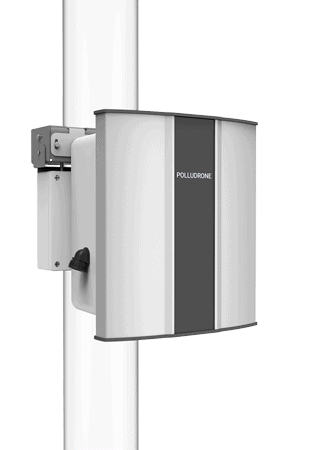 Wireless Local Area network based on IEEE 802.11 standard

Wired local area network deployment capability for secure data transfer

IP65 grade enclosure for endurance against harsh weather conditions

Third-party nodal agency, reference station co-location and spot calibration
Do you have a specific requirement?
Schedule call with our expert team and get the customised solution for your air quality monitoring requirement
Making Ambient Air Quality Monitoring Easy
We believe measuring air quality should not require huge capital investment, power consumption, dedicated land/space, and expensive maintenance. That is why Oizom air monitoring systems are portable, compact, and cost-effective. The devices work on low power requirements and work on battery backup for several days in case of power failure. Due to the light weight and compact casing, devices can easily be installed on a wall or a pole with almost minimum or no effort.
Oizom air quality measurement devices work on the principles of laser scattering for dust monitoring and electrochemical, NDIR, and PID sensing for gas monitoring. The sensor-based systems are low-cost, compact, and easy to install compared to conventional analyzer-based systems, making them an ideal system for scalable monitoring. Installation of a dense network of sensor data points across a large area to decipher hyperlocal environmental data. The Oizom air quality systems are designed to be robust and withstand harsh weather conditions and can be easily installed on a pole or mounted on a wall for 24×7 real-time air quality monitoring.
Oizom is currently providing air quality monitoring products and services in 30+ countries. Explore our documentation on air pollution case studies.
Active Sampling Technology
Data accuracy is very crucial for any measurement equipment. To ensure the highest data accuracy and sensor life longevity our environmental monitors work on the principles of active sampling. Through our patented e-breathing technology, our systems have a smartly designed sample intake and monitoring system inside a controlled environment. This isolates the effect of the external environmental factors such as  temperature, humidity, wind speed, wind direction on measurement.
Through active sampling technology, Oizom systems are able to achieve up to 13% higher accuracy than the industry standards. Hence, through active sampling technology, we offer accurate insight into ambient air quality data.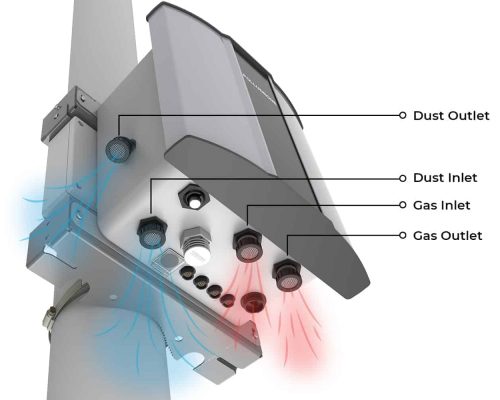 Each and every Oizom pollution measurement device goes through multiple calibration processes. Initially, the device calibration is at the Oizom factories where there is a bump test against a known concentration of gases to evaluate the sensor performance. Once a unit is ready to ship, the environmental monitor undergoes a multi-span calibration at an ISO 17025 certified laboratory. During lab calibration known concentration of gases passes through the gas chamber to ensure data accuracy and eliminate any kind of cross-sensitivity.
Oizom systems have been also collocated with a gold-standard Federal Reference Monitoring (FRM) based systems to understand its accuracy and apply necessary correction and compensation algorithms based on the climatic and geographic location of the installation.
Through spot calibration, over the cloud calibration is possible, reducing onsite manpower and maintenance cost. It is a periodic calibration performed quarterly or bi-annually depending on the air quality. Oizom uses a recently calibrated sensor-based system or a third-party system trusted by the client as a reference. The reference system should be a continuous monitoring system. Collection of around 150 data points are collected at the same time-interval to re-calibrate a system on the spot.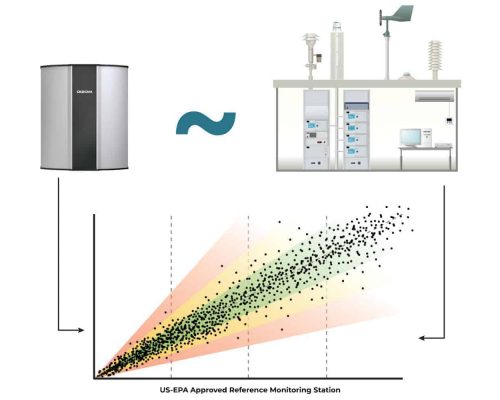 Air Quality Monitoring Software
Oizom offers an end-to-end holistic solution. From Air quality monitoring to providing data visualization and analytics for better decision making. The Oizom terminal enables users to access Air quality data in real-time. The platform allows the users to have an eagle-eye view of the environmental health across the areas within the measurement periphery. Oizom platform also offers advanced analytics with up to 3 levels of comparisons for decision-makers to deep dive into the data and conduct trend analysis.
The user can set thresholds, and the platform can trigger alerts based on air quality data. Also, alerts and automation modules help the user to trigger actions based on data. Thus, the platform can notify the relevant authorities of any significant change in the air quality data. Similarly, process automation can be possible through a relay-based system.
Automatic generation of Daily, weekly, and monthly reports as per the industry standards for data submission for regulatory purposes. If the end-user has an existing platform, the data from our air monitoring systems can merge into their platform through our secured HTTPS and MQTT-based REST APIs.
Similarly, the data can also be dispersed to the mass audience through integration into Smart LED and LCD screens.
Oizom hardware/software ecosystems are your one-stop solution for accurate air quality monitoring.