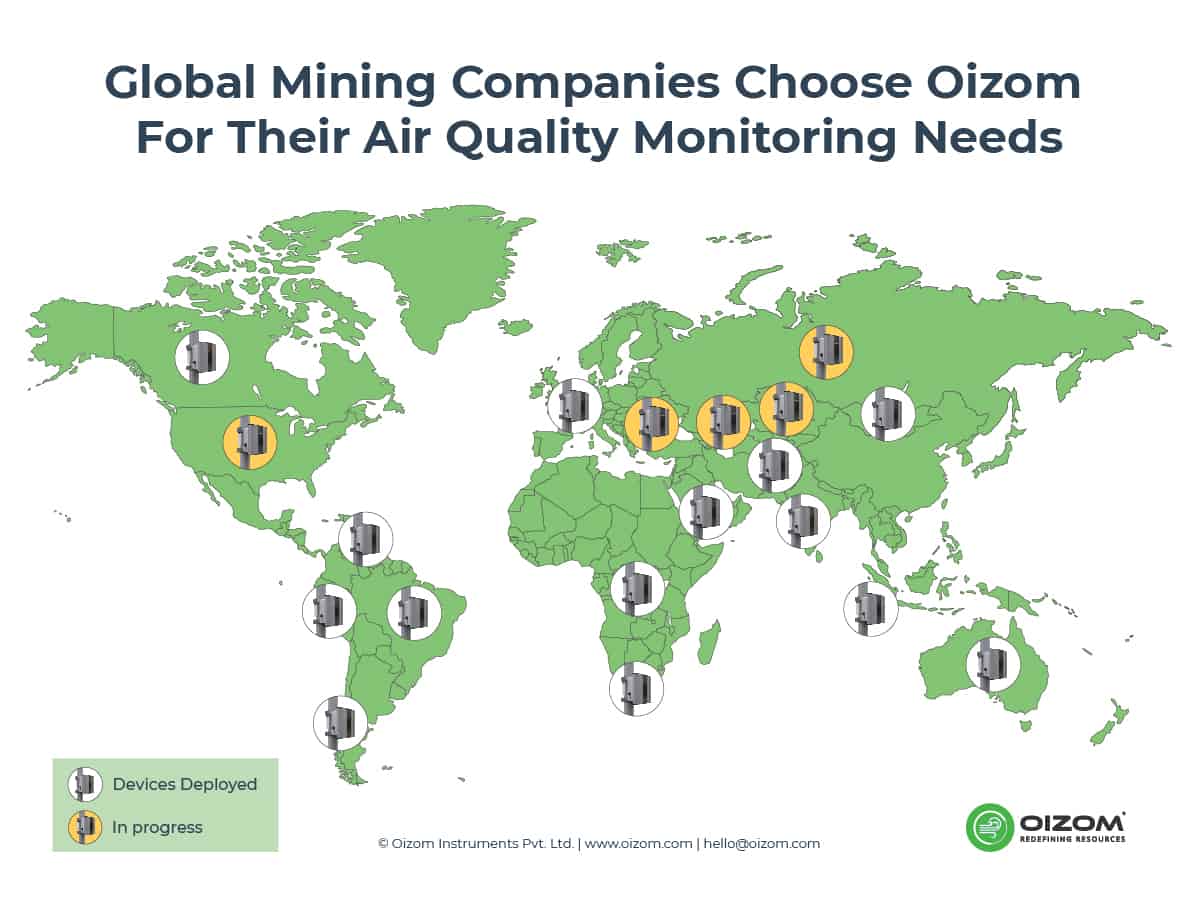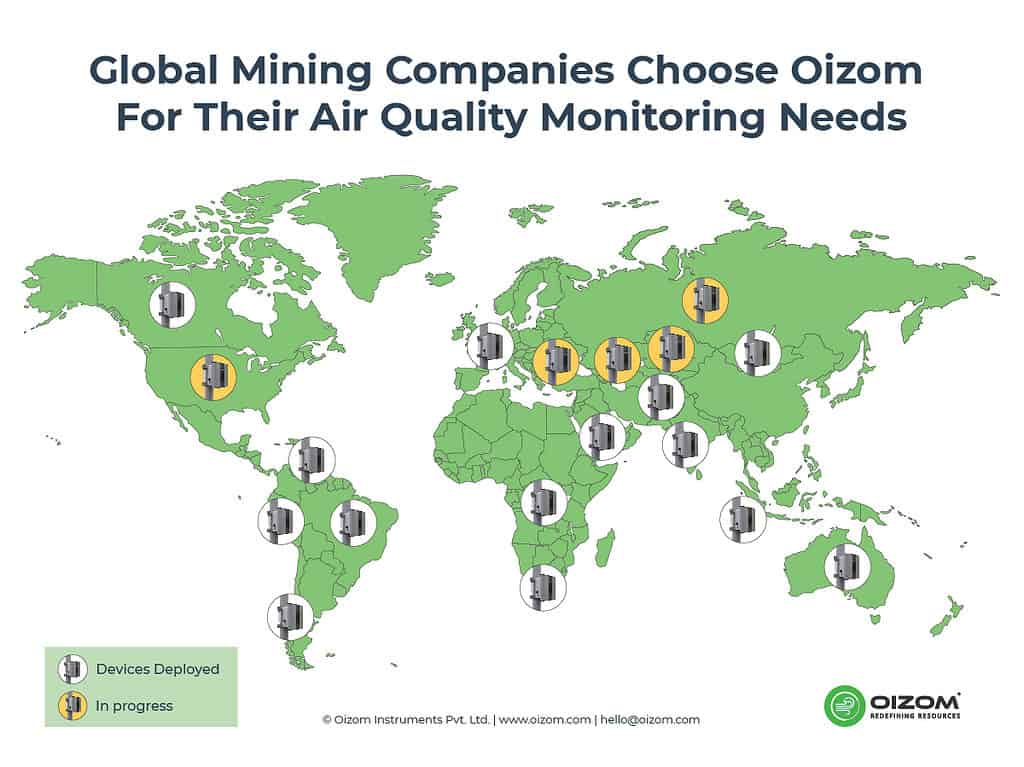 Oizom – An Indian environmental technology company is revolutionising the mining industries with its innovative solution. Oizom has developed a smart and robust technology that helps the mining companies to maintain occupational health and safety along with taking care of the environment. From global leaders to national experts, Oizom has won the trust of all with their accurate and affordable air quality monitoring systems. Mining companies involved in extraction of gold, platinum, diamond, coal, rhodium, and stone, have adopted Oizom's systems.
Mining sites usually have extreme temperature, high pressure in undermines, substantial amounts of dust, noise pollution, and odour pollution. All these factors cause health hazards to miners and result in high emissions of toxic gases in the environment. To mitigate these risks on mining sites, 14 global leaders from India, Indonesia, United Kingdom, Canada, Peru, South Africa, Mongolia Chile, Colombia, Australia, and Saudi Arabia opted for Oizom's air monitoring systems.
Oizom has developed real-time air quality monitoring systems for mining to provide accurate data and actionable insights to take data-driven actions to mitigate  dust, preserve natural resources, and ultimately save the miners from any health hazards. Their all-in-one multiparameter system detects various types of pollution, including dust, odour, noise, humidity, and others, eliminating the need for multiple systems and saving the mining companies significant investment. With their e-breathing technology, Oizom provides impeccable accuracy and longer shelf life of the sensor. The robust build of the systems makes them reliable even in the extreme climatic conditions.
Oizom's systems are solar compatible which makes them an ideal choice for mines where constant power connectivity is a challenge. Its multiparameter monitoring systems detect even the smallest of dust particles, noise pollution, odour pollution, humidity, etc. Oizom's systems can also automate the dust suppression process for better prevention.  The real-time dust monitoring systems have capabilities to monitor particulate matter up to 30,000 mg/u3.
Due to all these features and benefits, several mines globally have put their trust in Oizom and installed its pollution monitoring systems on the ground level mines as well as in underground mines. Recently, the world's largest gold mining site installed Oizom's 35 systems in their underground mines to monitor dust and take actions according to the insights from the data. Talking about world leaders, the largest coal mining site in the world located in India also used Oizom's systems to monitor and analyse the dust particulates. In extreme conditions like frequent sandstorms, Saudi Arabia mining company chose Polludrone to receive alert notifications via SMS or emails to take preventive actions against the potential sandstorm.
After the success of such huge projects, Jainam Mehta, the CBO of Oizom quoted, "Our systems are certainly  the new canary in mining towns which are making the mining industry more sustainable and less hazardous. One of the key factors that engenders trust in Oizom among our clients is the accuracy of our devices, which deliver precise results even in adverse climate conditions."
Oizom is committed to delivering sustainable and trustworthy air quality monitoring solutions to a range of industries and organisations. Their accurate and affordable air quality monitors promise reliable insights in extreme climate conditions. Whether it's through real-time air quality monitoring, weather tracking, or energy efficiency measurement, Oizom's solutions provide critical insights that help organisations make data-driven decisions for a better and sustainable future.