The Most Advanced Air Quality Sensor Calibration Infrastructure
Oizom's fully-fledged calibration lab ensures data accuracy of each air quality monitoring system before leaving from the premise.
The most advance air quality sensor calibration infrastructure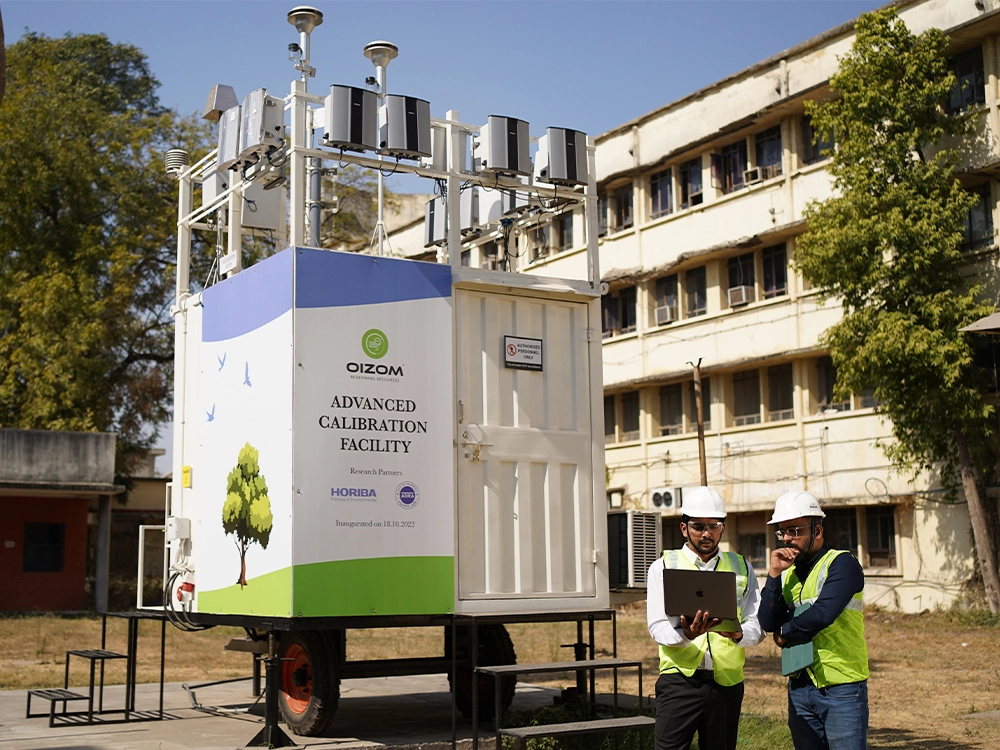 Empowering Industries with Accurate Air Quality Monitoring
The only Indian company to offer two-stage calibration as per US-EPA guideline
Sensor calibration is vital to get precise and accurate usable data for the desired application. Calibrating the sensors both before and after the installation of the devices plays an important role in the long-term precision of the sensor readings. Pre-deployment calibration is critical to identify and eradicate any sensor error by calculating the sensor offset and gain. While the periodic post-deployment calibration is significant to maintain consistency among sensor measurements and ensure system integrity.
Pre-deployment Calibration
All air quality monitoring systems are calibrated as per the international guidelines by USEPA (the United States Environmental Protection Agency) by the ISO/IEC 17025:2017 certified calibration laboratory to ensure the optimum data quality.
Oizom has a state-of-the-art lab calibration facility jointly developed with ATIRA, an Ahmedabad based research institute having NABL Accrediated / ISO 17025 certified environment laboratory. A zero and span calibration of each gas sensor is performed in a clean and controlled lab environment as per Section 12.2 of USEPA Quality Assurance Handbook for Air Pollution Measurement Systems Volume II. The gas sensor calibration is performed using known concentrations of gases delivered from NIST (National Institute of Standards and Technology) traceable calibration gas standards.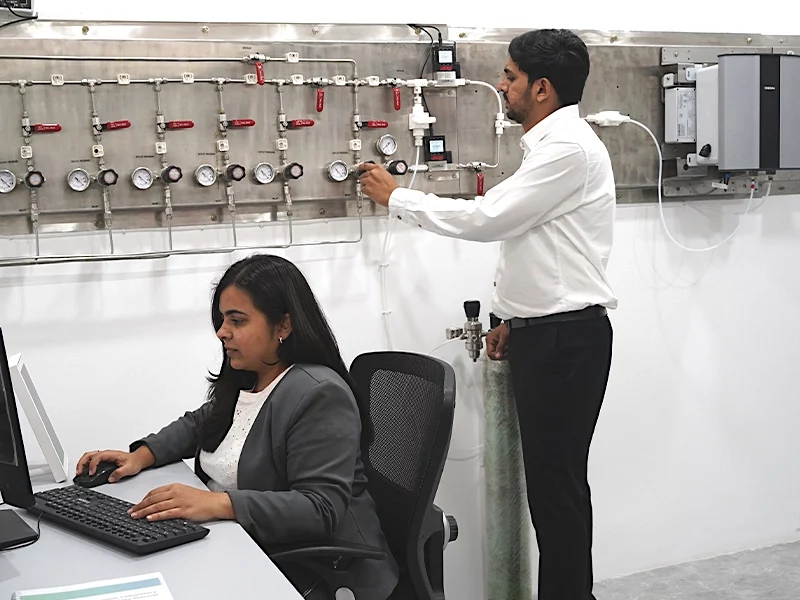 Co-location with regulatory grade reference station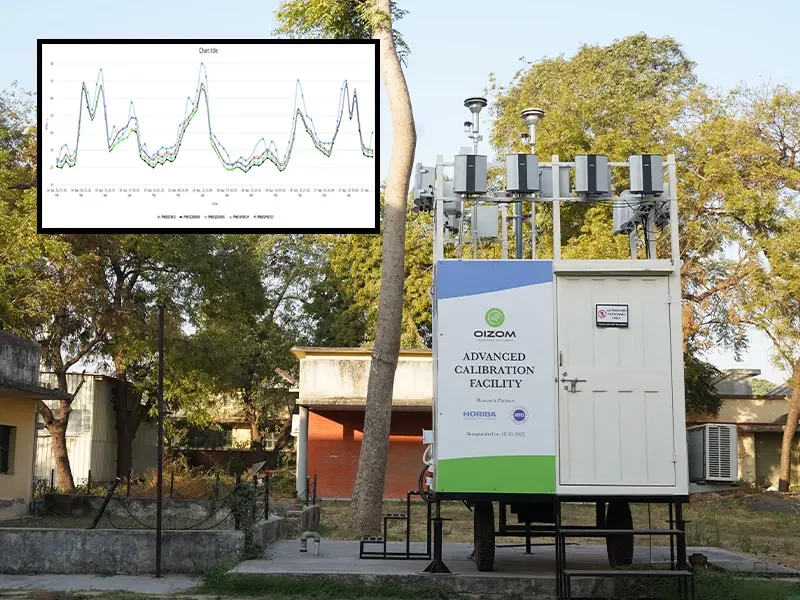 Co-location with regulatory grade reference station
After laboratory calibration with standard calibration gas cylinders, the monitors are operated adjacent to U.S. EPA designated Federal Equivalent Method (FEM) for 72 hrs for collocation calibration as per the US EPA Air Sensor Collocation Instruction Guide.

A custom built reference station is setup at our advanced calibration laboratory housing various referene grade analyzers including the Met One Instruments BAM-1020 for PM (- β-ray Attenuation), Horiba's APNA-370 for NOx (Chemiluminescence), APMA-370 for CO (NDIR), APSA-370 for SO2 (UV Fluorescence), and APOA-370 for O3 (UV-absorption).

The reference station can hold upto 40 Oizom units at a time allowing the additional evaluation of intra-model variability through statistical parameters such as mean, median, and standard deviation.

Oizom is the only company to provide third-party calibration certificate
Oizom has a state-of-the-art lab calibration facility jointly developed with ATIRA, an Ahmedabad-based research institute having NABL /  ISO 17025 certified environment laboratory.
Each Oizom equipment gets a calibration certificate from ATIRA, which brings transparency, trust, and confidence in the performance.
Post-deployment Calibration
On site calibration with gas cylinders
The consistency in the data accuracy which can deteriorate through wear, aging, and environmental influences is maintained through periodic remote calibration.

The patented e-breathing technology and custom OGS modules allows the user to perform the onsite calibration of the Oizom devices easily.

The units are spot calibrated using standard calibration gas cylinders of known concentration or by co-locating with a reference standard (which can either be a stationary reference station, an equivalent "gold standard" instrument, or a freshly calibrated Oizom monitor).

Oizom's proprietary Calibration Software allows the end user to calibrate the air quality monitors and apply the calibration factors automatically to the device.

On site calibration with gas cylinders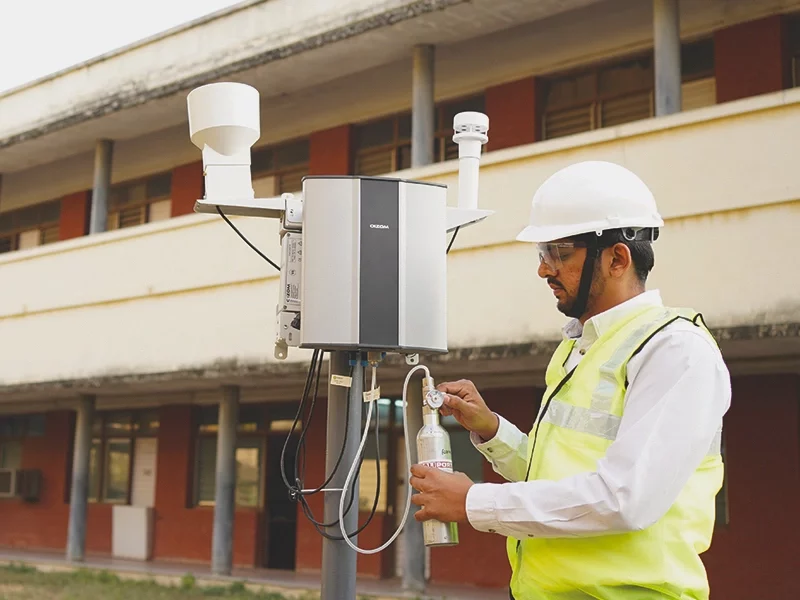 ML Models based remote calibration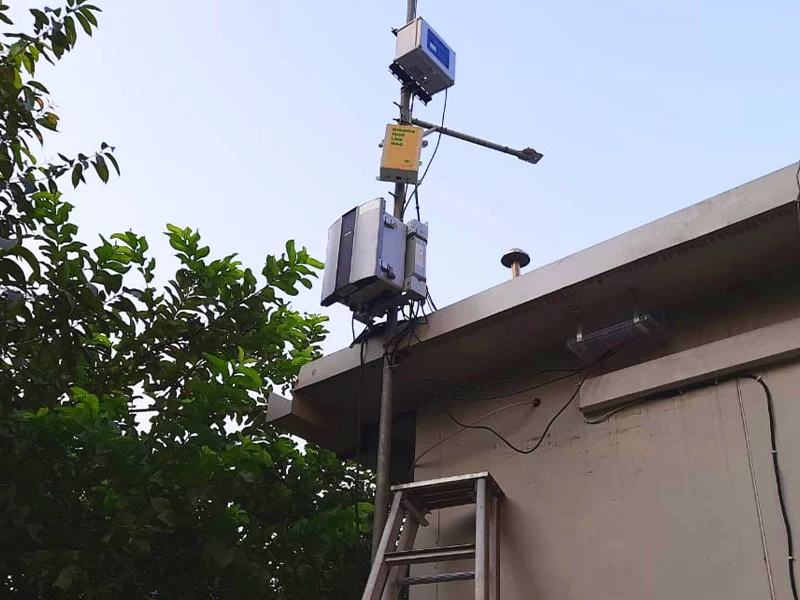 ML Models based remote calibration
At Oizom, we believe in embracing the future by staying ahead of the curve. 
As machine learning shapes the future technology, we are incorporating it into our air quality monitors to deliver unparalleled accuracy, calibration, and data insights.
Currently, our R&D team is diligently working on training data sets, enabling our monitors to recognize sensor patterns and generate reliable future predictions.
Integrating machine learning into our air quality monitors will revolutionize the hybrid model and remote calibration capabilities, making them more efficient and user-friendly.
Discover the future of air quality monitoring with Oizom's advanced machine-learning solutions.
Want to know more about our calibration process?
Schedule a call with our air quality experts to attain a solution for your unique air quality monitoring requirements.
Oizom's Extensive Calibration Process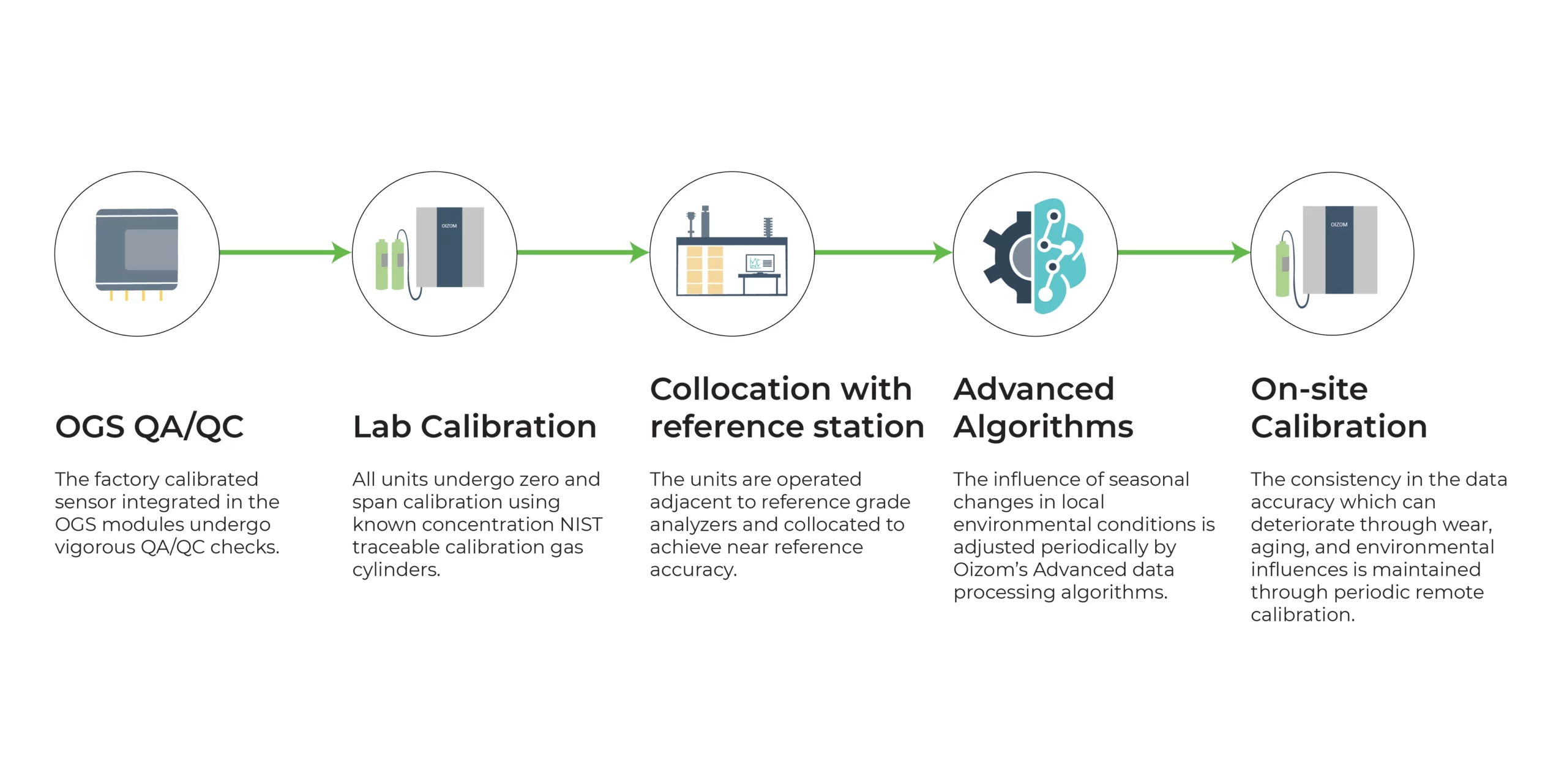 Oizom Systems X Reference Grade Station (Live)