Estimated reading time: 8 minutes
Governments Across India Crack Down On Real Estate Dust Issue
Once upon a time, Delhi was well known for its winters. However, pollution and unplanned expansion of the Indian capital have led us to a point where breathing in Delhi during the month of November is equal to smoking 33 cigarettes a day. 
And this is the story of pretty much every metropolitan city in North India as pollutants from factories, vehicles, and stubble burning continue to choke citizens. In this article, we will learn about the crisis caused by pollution and dust in northern India and how it is posing enormous challenges to the real estate industry and small builders in particular. We will cover how Oizom is enabling automation of dust suppression systems with its real-time dust monitoring and automation technology. 
At the end of the article, the readers will be able to understand both the policy-driven changes that have made it compulsory to implement dust control system and why automation is the only way forward, making Oizom a preferred technology partner for complying with government policies. 
Let's get started:
Understanding The Air Quality Crisis
Of the top 30 cities with high pollution levels, 21 are in India. While factors like global warming and the ecological perils of a fast-developing economy are a part of the problem, it is evident that policy-making and implementation are lacking on many levels. This time, the AQI figures crossed the 500 mark on multiple occasions. 
Such alarming pollution levels expose citizens to multiple health hazards like Chronic Bronchitis, Pneumonia, heart diseases, Chronic Obstructive Pulmonary Disease (COPD), ischaemic heart disease, lung cancer, and stroke. 
Consequently, the National Commission for Protection of Child Rights (NCPCR) notified the Delhi Government against keeping schools open. On the other hand, the National Human Rights Commission India (NHRC) summoned the chief secretaries of four states, including Delhi, over unchecked air pollution, while massive online outrage echoed over social media.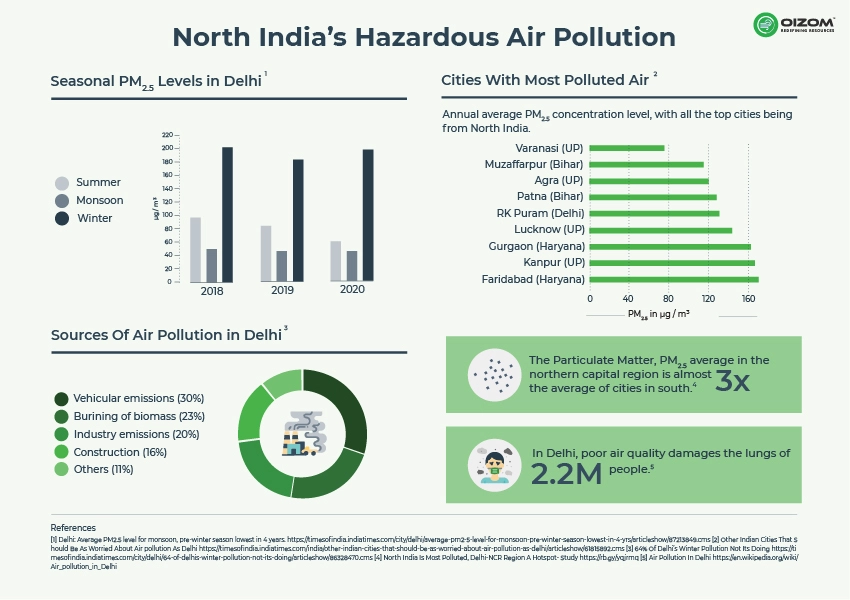 Government Measures For Damage Control
Taking cognizance of the developments, the Delhi government swung into action and announced work from home for 50% of its employees and shut down the primary schools. On October 29, it banned the construction and demolition activities in the NCR under stage 3 of the Graded Response Action Plan (GRAP.) In fact, Gopal Rai, the Environment Minister of the Delhi Government, slapped Larsen & Toubro Infrastructure with a fine of Rs. 5 lakh for uncovered construction material and stone-cutting activities. 
A recent notification Delhi Pollution Control Committee [reference number: DPCC/EIA/12/83)/4636] states that 125 high-rise buildings must install modified anti-smog guns (Dust suppression system) to curb dust pollution. Also, all private and public sites will be mandated to install anti-smog guns in the future. Thus, all builders and construction companies must adhere to the concerned guidelines and install dust suppression equipment in the days to come.
Dust Pollution Control Self-Assessment Portal
Also, the Delhi Government has launched a portal called "Dust Pollution Control Self-Assessment Portal", where all real estate firms engaged in construction and demolition must register. 
A similar portal was launched by the Haryana government, too, in line with the Commission for Air Quality Management in NCR and Adjoining Areas (CAQM). Also, the Delhi Government has released a toolkit to help comply with the dust control norms, which are to be adhered to strictly.
The Central Government has set a new goal of a staggering 40% reduction in particulate matter concentration in cities covered by the National Clean Air Programme (NCAP) by 2026 against the previous goal of a 20 to 30% reduction by 2024. Moreover, City Specific Clean Air Action Plans have been implemented by the government. 
The Government is also empowering organizations/nodal agencies for dust suppression, reflecting its commitment to the matter. Thus we can expect tighter control over construction activities in the days to come.
Oizom's Solution To Dust Control System Automation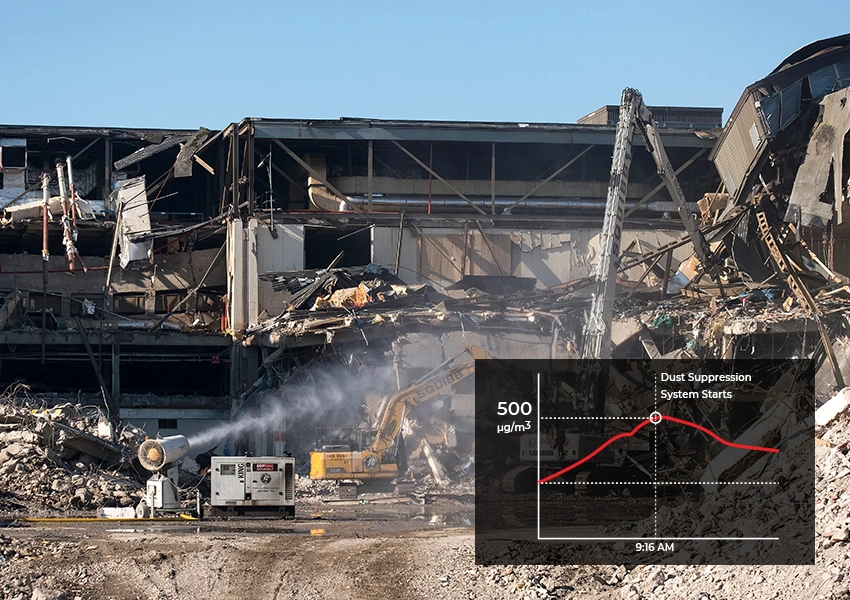 Despite the growing perils, the Indian construction industry faces a shortage of dust control solutions like pressurized fog and mist cannons. On top of that, most solutions do not come with automation features and real-time dust monitoring, thereby risking penalties. Consequently, stringent government norms and policy enforcement are building additional pressure on the real estate industry.
These are indeed unnerving developments for builders and construction company owners, but there are multiple solutions available in the market. For instance, the Chinese government launched a pilot project in Cangzhou city that uses advanced technologies like Big Data to track air pollution hotspots. 
Thus, there is no need to rely on menial surveillance as new-age solution providers like Oizom provide an IoT-based end-to-end solution to monitor, map and automate dust suppression. One of the most compelling advantages of using automation for dust suppression comes from lowered water and electricity consumption, thereby helping builders save on expenses.
Dustroid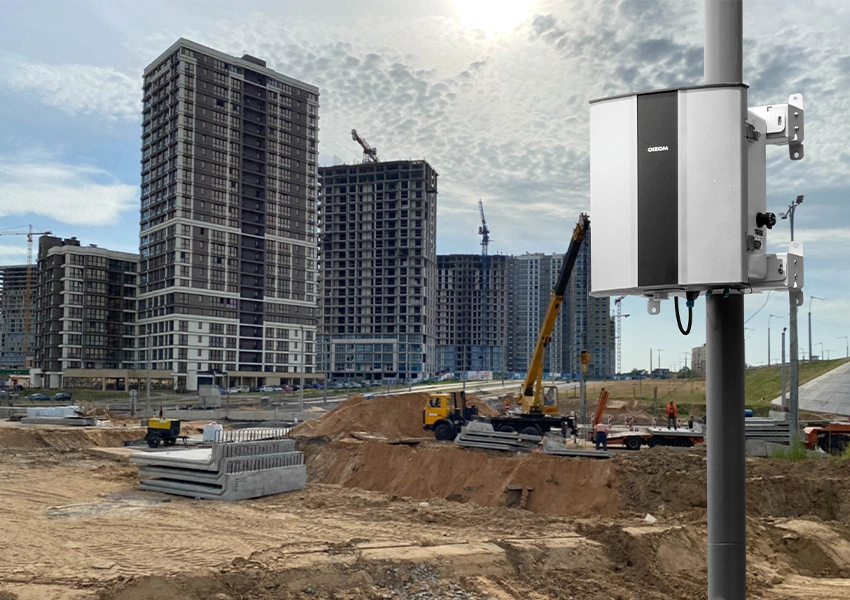 Oizom's Smart Dust Monitoring system, Dustroid, measures particulate dust concentration in ambient air. It's ideal for dust surveys in construction, mining, quarrying, ports, metallurgical processes, etc. Capable of running through solar power, Dustroid measures PM1, PM2.5, PM10, PM100, temperature, and humidity, making it an ideal choice for compliance. 
Its dust monitor uses Active Sampling and a laser beam to measure particles. Dustroid's heated inlet dehumidifies air samples while its anti-static qualities prevent sample loss. It also supports over-the-air (OTA) remote calibration and firmware updates through networks like GSM, WiFi, NBIoT, Ethernet, and LORA.
Explore how Oizom's Dustroid Smart Dust Monitoring system contributes to effective dust suppression on construction sites.
In case of network failure, it utilizes an inbuilt memory backup. The Oizom IoT Terminal displays collected data in real-time dashboards, generates automated reports, and triggers smart alerts. 
Dustroid and Dust Control System Automation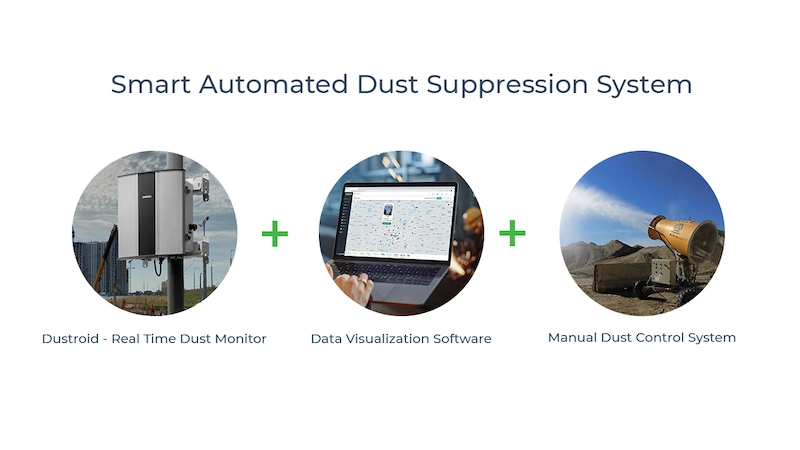 Users can easily access the data through Rest API to automate dust mitigation systems like fogging cannons, misting systems, and ambient dust purification systems. It comes with Oizom's proprietary relay for system integration that enables closed-loop feedback for automation as it works in tandem with the dust mitigation system.
With its proprietary automation module, users can automate any dust suppression system. Dustroid helps save labor costs as well as lower the requirement of utilities like water and electricity. Without automation, not only the costs would inflate, but the operation efficiency also suffers to a large extent. The current dust control systems available come with manual control and they don't necessarily support intelligent reporting which can be a challenge when it comes to compliance.
With the built-in relay and easy-to-configure module, Dustroid becomes the perfect answer for Automated Dust Control Systems.
How Dust Suppression Automation Is Helping Global Real Estate Construction Projects
Singapore's Cambrian Engineering Corporation installed Oizom's Dustroid throughout the period of five months for dust suppression system automation at the construction site. Its real-time dust monitoring helped the client and HDB monitor and assessed the construction site while producing accurate data without requiring personnel to visit the site. 
Dustroid's data helped the authorities to take the right action to control pollution and devise solutions for the same. Click here to download the Cambrian Engineering Corporation, Singapore case study or view it.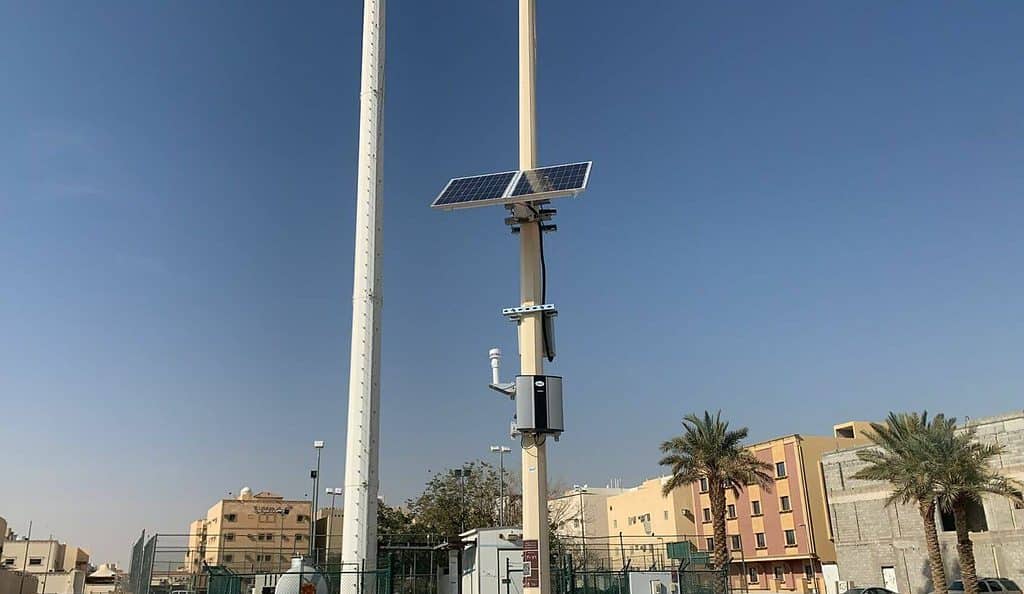 Freyssinet Saudi Arabia Co. Ltd. (FSAC), one of Saudi Arabia's leading general contracting and engineering firms, was offered Oizom's customized solutions in collaboration with ETCLO. The solution enabled FSAC to read wind direction and speed continuously in order to understand pollution levels. 
Using our smart, accurate, and robust air quality monitoring system, FSAC was able to access a historical trend of pollution, traffic, and wind direction. This aided local authorities in analyzing the variables at hand and making informed decisions to protect worker health. Click here to download the FSAC, Saudi Arabia case study, or view case-study.
Summary
Air pollution is a major concern for North Indian cities, and governments are taking active measures to contain the deteriorating situation. This poses multi-faceted risks and challenges for the real estate industry, but solutions like Oizom Dustroid are surfacing as a ray of hope. With an IoT-based end-to-end solution like Dustroid, firms can implement real-time dust monitoring network and automate dust suppression system.
It is an advanced yet affordable solution for the real estate industry, and it also provides features like remote data access, data analytics over dashboards, geo-mapping, scheduled reports, and alerts making it ideal for automated dust mitigation in residential townships and construction sites. Feel free to get in touch with our team at Oizom to know more.
Thanks for your feedback!