H2S is formed whenever elemental sulfur or sulfur-containing compounds come into contact with organic materials at high temperatures. Continuous or high-level exposure to H2S can quickly deaden a person's sense of smell, making the odour of H2S an unreliable indicator of its presence. Hence, other means such as hydrogen sulfide monitoring a viable solution to provide adequate warning of hazardous exposure. This article covers information on hydrogen sulfide, its sources in the ambient air, permissible levels, health, and environmental impact. Additionally, it also highlights possible corrective measures. The need for H2S monitors, and different methods of H2S monitoring.
What is H2S?
H2S is colorless, flammable, poisonous, and corrosive gas with one sulfur atom bonded to two hydrogen atoms. Also, known as sewer gas, swamp gas, or manure gas. H2S has a noticeable rotten-egg odour detectable at concentrations as low as 0.5 ppb. Also, It is a highly flammable, explosive gas between 4% and 45% (concentration in air) which may travel to ignition sources and flash back. When ignited, it burns to produce toxic vapors and gases (sulfur oxides).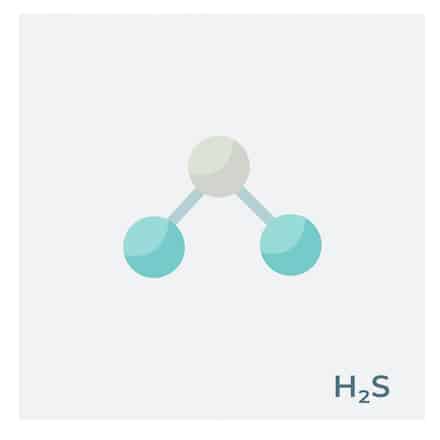 Hydrogen sulfide is slightly heavier than air. It may travel along the ground collecting in low-lying, enclosed, or poorly ventilated areas such as basements, sewer lines, underground passages, manholes, etc. 
Hydrogen sulfide in Atmosphere
H2S is present naturally in crude petroleum, natural gas, and hot springs. It is released into the atmosphere primarily as gas from volcanoes, geothermal vents, sulfur springs and lakes, salt marshes, and estuaries. Also, bacterial breakdown (anaerobic decay) of organic sulfur compounds produces H2S.

Once released it remains in the atmosphere for about 18 hours before converting to other sulfur oxides. H2S in the air oxidizes to form SO2 which consequently reacts to form sulfate particles. It also contributes to acid rain by dissolving into water vapor to form sulfuric acid.

Sources
Most of the atmospheric hydrogen sulfide has natural origins (about 90%). Formed under conditions of deficient oxygen, in the presence of organic material and sulfate. Hence, it is one of the major pollutants emitted from sewage and wastewater treatment plants, utility facilities, and sewers. It is also present in compounds such as natural gas and crude petroleum. Anthropogenic activities such as drilling, production, and refining of crude oil and natural gas allow the release of H2S into the atmosphere.
H2S can be formed whenever elemental sulfur or sulfur-containing compounds come into contact with organic materials at high temperatures. In industries, for instance, the production of coke, viscose rayon production, wood pulp, etc. emit the gaseous pollutant into the air. Other sources include sulfur extraction processes, tanning, mining, sugar-beet processing, and hot-asphalt paving. 
Permissible exposure limits for H2S
| | | | | |
| --- | --- | --- | --- | --- |
| | 8-hr. TWA | STEL | Ceiling Limit | Acceptable Max Peak Above Ceiling for an 8-Hour Shift |
| Federal OSHA PEL | NA | NA | 20 ppm | 50 ppm (maximum duration-10 minutes |
| NIOSH REL | 10 ppm | 15 ppm | NA | NA |
| ACGIH TLV (2010) | 1.0 ppm | 5.0 ppm | NA | NA |
Permissible Exposure Limit (PEL) given by OSHA (Occupational Safety and Health Administration) defines the maximum concentration of H2S to which an unprotected worker may be exposed to. In other words, PEL may reference an eight-hour time-weighted average (TWA), a 15-minute short-term exposure limit (STEL), or an instantaneous ceiling limit (CL) concentration that cannot be exceeded for any period. Similarly, NIOSH (National Institute for Occupational Safety and Health) states the Recommended Exposure Limit (REL) is the occupational exposure limit. The ACGIH (American Conference of Governmental Industrial Hygienists) recommends the TLVs (i.e. threshold limit values).
Health & Environmental Impact of H2S
Health Impact
H2S is both an irritant and as well as a chemical asphyxiant. So, When inhaled affects oxygen utilization and the central nervous system of the body. It has a detectable odour even at low concentrations. However, with continued exposure and at high concentrations, it causes olfactory fatigue i.e. the person loses the ability to smell H2S even if it is present. At very high concentrations, the ability to smell the gas can be lost instantaneously. Its health effects can vary depending on the level and duration of exposure.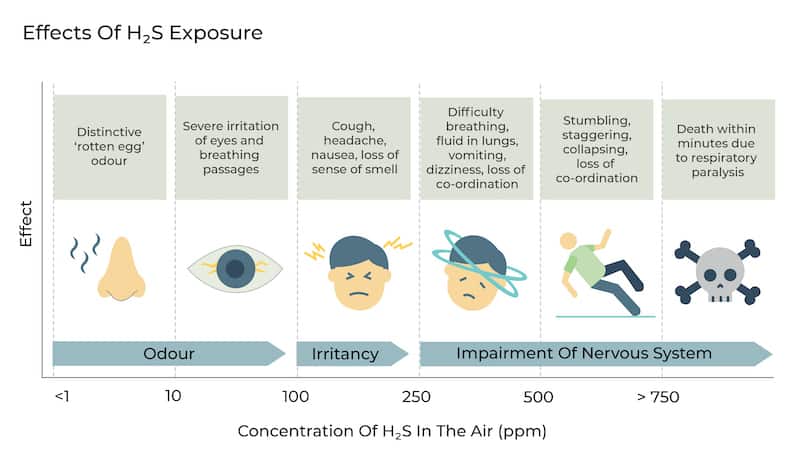 After exposure to H2S, symptoms usually begin immediately. At low levels, symptoms such as irritation of the eyes, nose, and throat occur. H2S does not accumulate in the body. But repeated and prolonged exposures can several effects. For example, low blood pressure, headache, dizziness, nausea, and vomiting, as well as coughing and difficulty in breathing. While higher levels can cause shock, convulsions, coma, and death.
Environmental Impact
H2S, being somewhat water-soluble, results in the formation of sulfhydric acid (H2SO4). H2SO4 is corrosive to metals and contributes to acidic deposition in soil and water. Additionally, it is capable of corroding metals.  
H2S oxidizes in the atmosphere to sulfur dioxide (SO2). SO2 is one of the critical ambient air pollutants and has negative effects on human health and the environment. It further reacts to form sulfates through several different pathways. Though not directly involved in climate change, its conversion to sulfate particles in the atmosphere contributes to the cooling influence provided by atmospheric sulfate.
Possible corrective measures
The primary action is H2S monitoring i.e. to measure how much is the exposure to H2S concentrations. In addition to this following corrective measures can be taken:
Avoid going to or staying in low-lying areas near the source of H2S.
On detection of H2S, immediately vacate the area and provide proper ventilation to remove the gas.
Moreover, on the detection of H2S, use appropriate respiratory protection or any other personal protective equipment (PPE).
Avoid open disposal of animal waste
Also, avoid spending time in the areas downwind of sewage and wastewater treatment plants.
Measurement methods of H2S monitoring
Different working principles for hydrogen sulfide monitoring in the ambient environment are pulsed U.V. fluorescence, lead acetate tape method, semiconductor, and electrochemistry.
Pulsed U.V. Fluorescence
The H2S monitor working on the UV fluorescence principle is based on the emission of a characteristic fluorescence when SO2 molecules are irradiated by UV light. The air sample taken by the H2S monitor takes two routes. One part of the sample passes through the converter where the H2S gas converts into SO2 by a catalytic reaction while the other part bypasses the converter.
When SO2 is exposed to the beam of U.V. radiation in the region of 190-230 nm,  it gets excited and emits characteristic fluorescence radiation of 320-380 nm when they return to its ground state. The radiation passes through a filter and the detector (photomultiplier tube) records it. The concentration of H2S is the difference between the signal from both parts. Potential interferences in such hydrogen sulfide monitors include water vapor, nitric oxide (NO), and various hydrocarbons. 
Lead Acetate Tape Method
The H2S monitor based on this method relies on the chemical reaction of H2S with lead acetate-impregnated paper tape to form lead sulfide. The color of the lead acetate tape changes if the H2S is present in the sensor as lead sulfide appears as a brown stain on the paper tape. Further, a light source illuminates the tape and specially calibrated optics measures the H2S concentration based on the slight variations in the depth of the color change of the tape. 
Semiconductor
When a metal oxide semiconductor-based hydrogen sulfide monitor is exposed to an air sample, the H2S molecules react on the metal oxide surface of the sensor and dissociate into charged ions that alter the resistance of the film. This interaction is measured as a signal and is converted to the gas concentration. However, the energy consumption of such H2S monitors is higher compared to others.
Electrochemical
H2S monitors working on the electrochemical principle are operated based on the diffusion of hydrogen sulfide gas into the sensor which results in the production of electrical signals proportional to the H2S concentration. Therefore, it allows accurate measurement of even low concentrations of H2S, which is essential in H2S monitoring in the ambient air.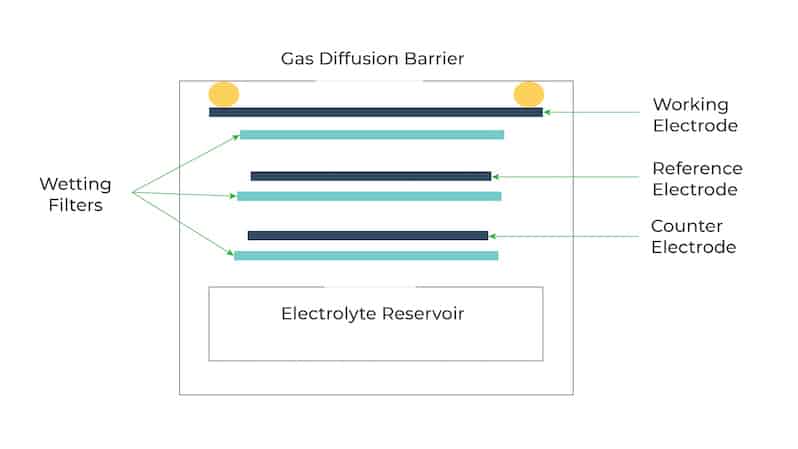 Among all the above principles of H2S monitoring, applications like ambient air monitoring prefer hydrogen sulfide monitors based on electrochemistry. This is because they yield more accurate H2S concentrations and are inexpensive in comparison with the others.
Oizom's working principle for H2S monitoring
Oizom's ODOSENSE is the real-time odour emission tracking solution. It continuously detects, measures, and monitors the odourful gaseous contaminants including hydrogen sulfide, ammonia, sulfur dioxide, methyl mercaptan, TVOC, formaldehyde, methane, and weather parameters like temperature, humidity, wind speed, and wind direction. The sensor that measures H2S works on the principle of electrochemical sensing. With the help of meteorological data, Odosense can trace the odourant dispersion plume incited by conditions like wind speed and wind direction. Odosense is a proactive approach to measuring real-time odour emissions. This makes it an ideal choice for landfill sites, wastewater treatment facilities, fertilizers, paper-pulp industries, soil-treatment sites, etc. 
Reasons why H2S monitoring is important
H2S is a colorless, odorous gas that is majorly produced naturally during the anaerobic decay of organic sulfur compounds and can accumulate in enclosed, poorly ventilated, and low-lying areas. 
H2S, apart from affecting human health and the environment itself, produces other pollutants such as sulfur dioxide and sulfuric acid, which have negative effects on health and the environment. 
Continuous or high-level exposure to H2S can quickly deaden a person's sense of smell, making odour of H2S an unreliable indicator of its presence. Hence, other means such as the use of H2S monitors is a viable solution to provide adequate warnings of hazardous exposure.
When inhaled, the lungs rapidly absorb H2S. This leads to respiratory problems, paralysis, and impairment of the nervous system. Thus, making it important to monitor the levels of H2S we are exposed to.  
Real-time monitoring of H2S levels helps in determining the source of the odour as well as formulating an action plan to control odour.