Ground-level ozone is harmful to human health and the environment, especially on sunny days when its concentration can reach high levels. Also, it is a precursor of photochemical smog, which has its fatal effects. Real-time O3 monitoring helps in calculating the air quality index to deliver health advisories as well as formulating an action plan to meet standards.  This article covers information on ozone, its sources, permissible levels in the ambient air, health and environmental impact, possible corrective measures, the need for ozone monitors as well as different methods of ozone monitoring.
What is Ozone?
Ozone is a highly reactive gas with three oxygen atoms. It is a pale blue gas with a distinctively pungent, irritating smell resembling chlorine bleach, also can be detectable at 0.1 ppm concentrations in the air. Also, being a powerful oxidizing agent, it is highly combustible at 10 wt% or higher concentrations. Also, it is highly unstable and hence gets converted to O2 at high concentrations.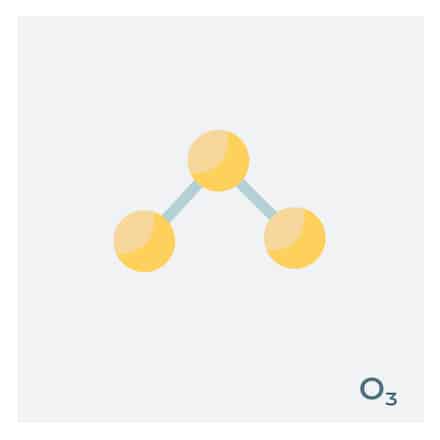 Ozone in the Atmosphere
Ozone occurs naturally through the reaction of solar ultraviolet (UV) radiation with molecular oxygen in the upper atmosphere (about 6 – 30 miles above the earth's surface – Stratosphere). This "ozone layer" is called good ozone as it protects and shields the earth's surface from the harmful effects of the sun's UV radiation. However, when it is formed just above the earth's surface, even its low levels highly impact human health and welfare making it "bad ozone".
Ground-level ozone is a secondary air pollutant formed primarily from the photochemical reactions of other air pollutants, specifically nitrogen oxides (NOx) and volatile organic compounds (VOCs). It is formed by the reaction of sunlight with air containing NOx and hydrocarbons directly at sources or at areas downwind of major sources of NOx and VOC where O3 or its precursors are carried by the winds.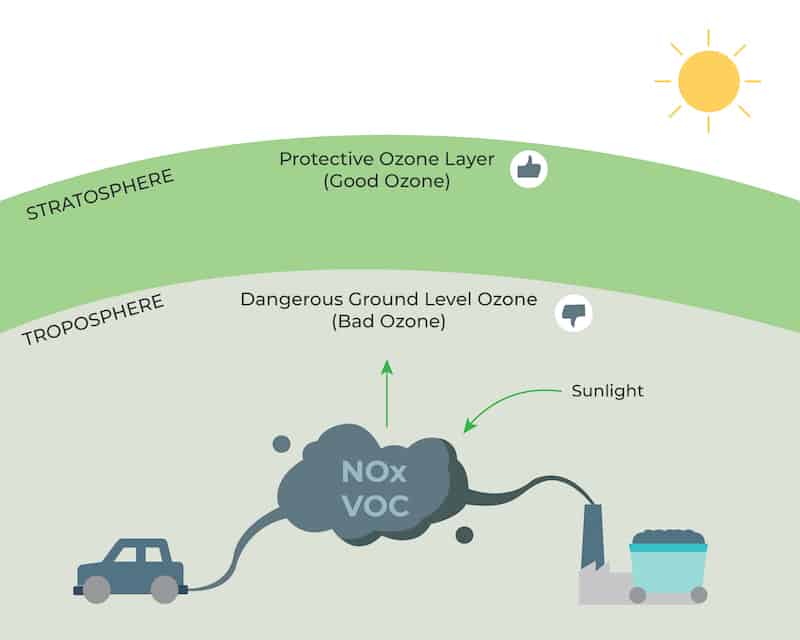 Ground-level ozone has a lifetime of about 22 days. Its removal from the atmosphere either by deposition to the ground or on plants or also by reaction with nitric oxide (NO) to form NO2 or photolysis with UV light to form components of smog. 
Sources of Ozone
Significant sources of precursors of ozone i.e. VOC and NOx come from many areas such as :
On-road sources ( cars, trucks, and buses)
Off-road sources(aircraft, locomotives, etc.)
Non-road sources (construction, agricultural equipment, etc.)
Point sources (cement and power plants)
Area sources ( bakeries, paint shops, dry cleaners, etc.)
Production and also drill rigs, etc.
Also, natural sources (forest fires and vegetation)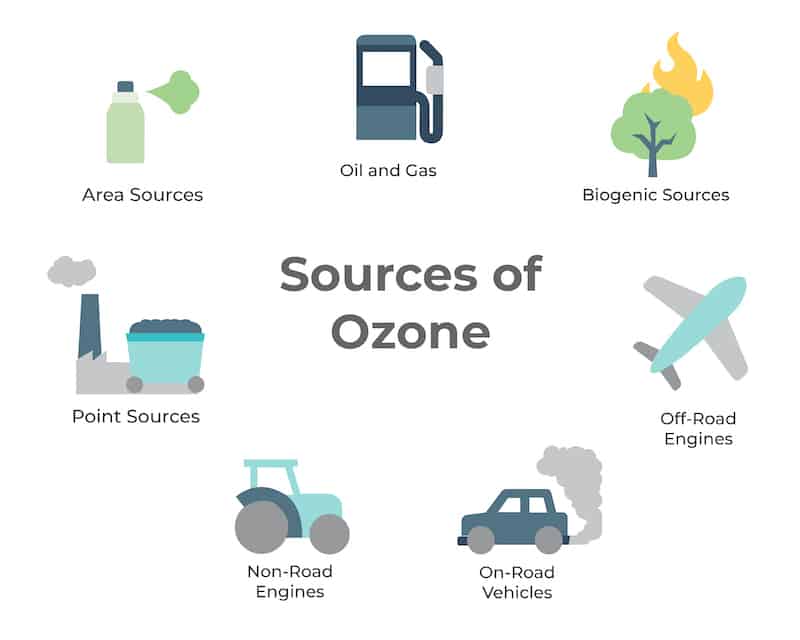 High ozone concentrations are found to be downwind of NOx and VOC sources in urban areas as it takes a while for pollutants to react with sunlight. Peak concentration usually occurs during the afternoon hours when there is more sunlight. However, peaks in the afternoon and evening are observed in the areas downwind of the major sources as its precursors are long distances by the wind. Thus, in remote areas high levels of ozone can occur at various times of day, including early evening or night.
Permissible levels of O3
The breakpoints concentrations describing the quality of air based on ground-level ozone concentrations for different countries are here. Also, in India, the daily O3 levels of up to 100 µg/m3 are satisfactory.
Table: Breakpoints of Ozone (µg/m3)
| | | | | | | | |
| --- | --- | --- | --- | --- | --- | --- | --- |
| India (8-hr) |   | US (8-hr) |   | China (8-hr) |   | EU (8-hr) |   |
| AQI Category | Breakpoint concentration | AQI Category | Breakpoint concentration | AQI Category | Breakpoint concentration | AQI Category | Breakpoint concentration |
| Good | 50 | Good | 100 | Excellent | 116 | Very low | 60 |
| Satisfactory | 100 | Moderate | 160 | Good | 147 | Low | 120 |
| Moderately polluted | 200 | Unhealthy for sensitive | 215 | Lightly Polluted | 186 | Medium | 180 |
| Poor | 265 | Unhealthy | 265 | Moderately Polluted | 225 | High | 240 |
| Very Poor | 748 | Very Unhealthy | 800 | Heavily Polluted | 733 | Very high | 240+ |
| Severe | 748+ | Hazardous |   | Severely Polluted |   |   |   |
Health & Environmental Impact of Ozone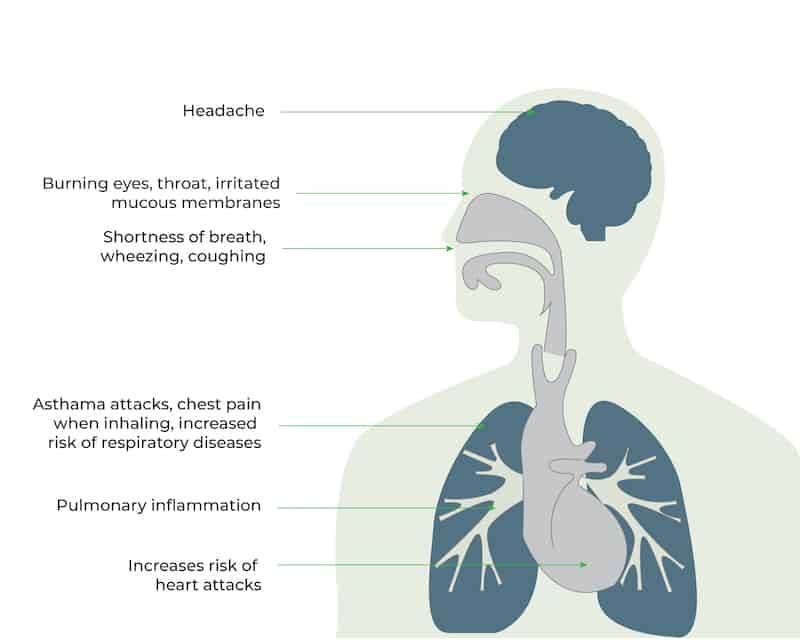 Health impact
Ozone has high oxidizing potential and it can react with a wide range of cellular components and biological materials causing damage to mucous and respiratory tissues in humans, animals as well as plants at levels above 0.1 ppm. Even low concentrations of ozone in the air are very destructive to organic materials such as latex, plastics, and animal lung tissue.
Ozone can irritate the eyes, nose, and throat, and can aggravate asthma and other lung diseases, such as bronchitis, heart disease, reduce lung capacity, etc. Also, ozone can irritate the respiratory system, causing coughing, and an uncomfortable sensation in the chest. However, if levels remain high, then ozone can continue to harm your lungs even after symptoms disappear.
Individuals already suffering from heart or lung disease when exposed to high ozone levels can increase their risk of premature death. Children, especially those, who spend a large amount of time outdoors, are at particular risk under high ozone concentrations.
Environmental Impact
High levels of ground-level ozone damage trees and plants also interfere with photosynthesis and impair plant growth, making them more vulnerable to insects and disease. 
The photolysis of ozone by UV light leads to the removal of hydrocarbons from the air, but it also forms components of smog (i.e. fog or haze intensified by smoke or other air pollutants) such as peroxyacetyl nitrates (PAN), which can be powerful eye irritants.
Possible corrective measures
The primary step is O3 monitoring to identify the areas with high O3 levels or areas where air quality does not meet the O3 national standards. In addition to this following corrective measures can be taken:
Have a walk, use bicycles, public transport, or carpool whenever possible.
Refuel your vehicle after dusk and also avoid overflowing your tank.
Avoid keeping your vehicle idle for long. 
Promote the use of alternative fuels and also improve quality fuels with high emission rates. 
Periodically maintaining/service your vehicles also improves their performance and reduces emissions. 
Avoid unnecessary use of paints or other products that release the solvent.
Also, avoid any physical activity outside when pollution levels are high, especially on hot days. Stay indoors until it cools down outside and the air is fresh.
Measurement methods of Ozone monitoring
Above all, different working principles for ozone monitoring in the ambient environment are U.V. photometry, Gas-Phase Chemiluminescence, semiconductor, and electrochemistry.
U.V. Photometry
The air sample taken by the ozone monitor is divided into two parts and from one part of the sample, so O3 is removed from the air using a scrubber to provide zero reference intensity. Also, the air sample in the O3 monitor working on the principle of U.V. photometry is exposed to ultraviolet (UV) light at 254 nm wavelength where the ozone present in the air sample absorbs the UV light in proportion to its concentration. The absorption is measured using a UV detector and the ozone concentration is calculated as opposed to the sample without ozone. Hence, it is the most widely used conventional method for measuring O3 concentrations.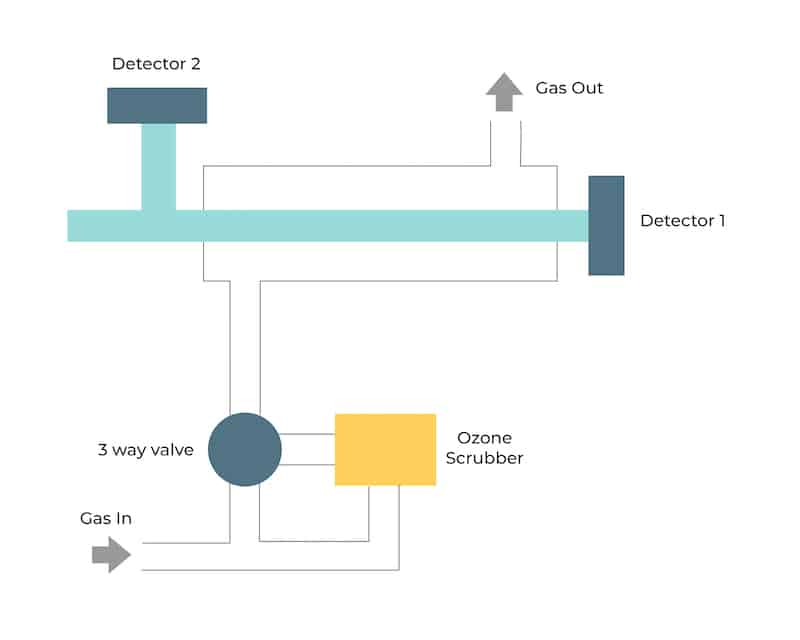 Gas-Phase Chemiluminescence
It is an old method for ozone monitoring. As a result, in this, the ambient air and ethylene are directly sent together in a mixing zone of the O3 monitor where ozone in the air reacts with ethylene. As this reaction is photolytic, as a result, it emits light proportional to the O3 concentration present in the air sample which is detected by a photomultiplier tube. The photocurrent that is measured is amplified and converted to O3 concentration values.
Semiconductor method for Ozone monitoring
When a metal oxide semiconductor-based O3 monitor is exposed to an air sample, the ozone molecules react on the metal oxide surface of the sensor and dissociate into charged ions which alter the resistance of the film. Hence, this interaction is measured as a signal and is converted to the respective gas concentration. However, when compared to other ozone monitors, the energy consumption of such ozone monitors is higher.
Electrochemical method for Ozone monitoring
Ozone monitors working on the electrochemical principle are also operated based on the diffusion of ozone gas into the respective sensor which results in the production of electrical signals proportional to the Ozone concentration. Hence, it allows accurate measurement of even low concentrations of ozone, which is essential in ozone monitoring for the ambient air.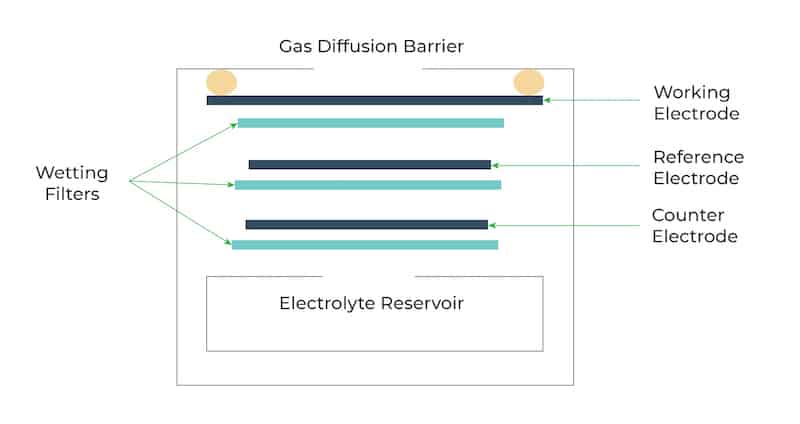 Hence, among all the above principles of Ozone monitoring, applications like ambient air monitoring prefer ozone monitors based on electrochemistry. This is because they yield more accurate Ozone concentrations and are inexpensive in comparison with the others.
Oizom's working principle for ozone monitoring
Oizom's POLLUDRONE measures more than 30 parameters including gaseous pollutants like carbon monoxide, sulfur dioxide, ozone, nitrogen dioxide, nitric oxide, dust particulates like PM2.5, PM10, noise, and weather parameters like rainfall, wind speed, and wind direction. Also, most of the sensors measuring gases including ozone work on the principle of electrochemical sensing. Several cities, campuses, and universities have deployed the active sampling-powered sensor-based air quality monitor POLLUDRONE for drawing actionable insights to tackle the rise in ambient nitrogen oxide concentrations. 
5 Reasons Why Ozone Monitoring is Important
Ground-level ozone is one of the critical air pollutants produced indirectly from various common sources such as vehicular emissions and energy production resulting in the poor air quality of urban as well as rural areas.
O3, apart from affecting human health and the environment itself, also plays a major role in the formation of smog which has a harmful effect on health and the environment. 
Exposure to high levels of O3 can lead to the destruction of the lung tissues and also continuous exposure can harm the respiratory system even after the symptoms disappear. As a result, high levels of ozone stun the growth of plants leading to a reduction in agricultural yield. 
O3 monitoring is an efficient way to detect the accumulation of high levels of O3 we are exposed to and alerts us when a certain level is exceeded. 
Real-time monitoring of O3 levels helps in calculating the air quality index to deliver health advisories as well as formulating an action plan to meet standards.