SO2 monitoring is an efficient way to detect and reduce exposure to sulfur oxides which further benefits in reducing the formation of particulate sulfur pollutants like fine sulfate particles, acid rain, and smog.  This article covers information on sulfur oxides, their sources, permissible levels in the ambient air, health, and environmental impact, possible corrective measures, the need for sulfur dioxide monitors as well as different methods of SO2 monitoring.
What is sulfur dioxide?
Sulfur oxides are a group of air pollutants made up of sulfur and oxygen atoms. 
SO2 is a dense, colorless, toxic, non-flammable, reactive gas composed of one sulfur atom bonded to two oxygen atoms. It has a suffocating unpleasant strong distinct odor similar to a matchstick being struck. It is an acidic, erosive gas that reacts easily with other substances to form harmful compounds, such as sulfuric acid, sulfurous acid, and sulfate particles.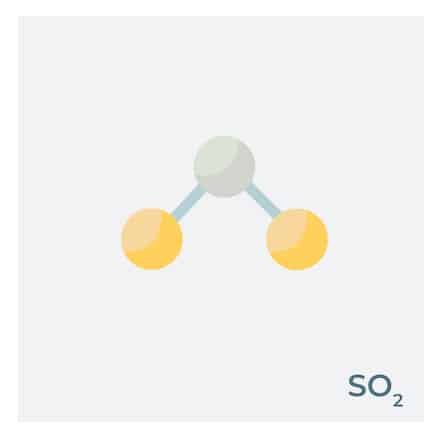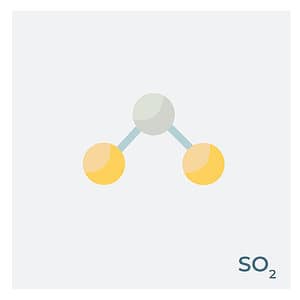 Sulphur oxides in the Atmosphere
SOx is naturally present in the atmosphere at very low concentrations. About 99% of SO2 is released into the atmosphere through human activities. High levels of SO2 are often found at industrial sites or in densely populated urban areas. The lifetime of SO2 in the atmosphere is about a few days and is removed by reacting with various other compounds.
It reacts in the atmosphere to form sulfur trioxide (SO3), and dissolves readily in water vapor, forming sulfuric acid(H2SO4) which forms condensation nuclei for aerosols and clouds and acidifies the rain. It can also attach to dust and soot particles in the atmosphere to form particulates. These reactions form from other secondary pollutants such as smog, and influence both human health and environmental processes.
Sulfur Dioxide Sources
Sulfur oxides are released into the atmosphere naturally from volcanic eruptions. SOx, especially SO2, is emitted by the burning of fossil fuels such as coal, oil, and diesel, or any other materials that contain sulfur.  Emissions that lead to high concentrations of SO2 generally also lead to the formation of other sulfur oxides. 
The largest source of SO2 in the air is the combustion of fuels in power plants and other industrial facilities. Other smaller sources include industrial processes such as extraction of metal from ore, aluminum smelting, refining of oil, pulp mills, and emission from locomotives, ships, and other vehicles and heavy equipment that burn sulfur-containing fuels. Diesel vehicles and equipment using high sulfur fuels were a major source of SO2 in the past, but the federal regulations to reduce the sulfur content of diesel fuels have made a significant improvement in emissions from the transportation sector.c power plants and refineries.
The breakpoints concentrations describing the quality of air based on sulphur dioxide concentrations for different countries are given below. In India, the satisfactory levels of daily SO2 are up to 80 µg/m3.
Table: Breakpoints of sulphur dioxide (µg/m3)
| | | | | | | | |
| --- | --- | --- | --- | --- | --- | --- | --- |
| India (24-hr) |   | US (24-hr) |   | China (24-hr) |   | EU (8-hr) |   |
| AQI Category | Breakpoint concentration | AQI Category | Breakpoint concentration | AQI Category | Breakpoint concentration | AQI Category | Breakpoint concentration |
| Good | 40 | Good | 50 | Excellent | 89 | Very low | 50 |
| Satisfactory | 80 | Moderate | 150 | Good | 377 | Low | 100 |
| Moderately polluted | 380 | Unhealthy for sensitive | 475 | Lightly Polluted | 587 | Medium | 350 |
| Poor | 800 | Unhealthy | 800 | Moderately Polluted | 797 | High | 500 |
| Very Poor | 1600 | Very Unhealthy | 1600 | Heavily Polluted | 1583 | Very high | 500 |
| Severe | 1600+ | Hazardous | 1600+ | Severely Polluted | 1583+ |   |   |
[Source: National Ambient Air Quality Index, CPCB (Oct 2014)]
Health & Environmental Impact of SO2
Health impact
SO2 is soluble in aqueous media and hence when inhaled, it affects the mucous membranes of the nose and upper respiratory tract. The short-term effects of SO2 exposure are felt very quickly. Most people feel symptoms within minutes of breathing it in. Moreover, the long-term effects are quite severe, sometimes resulting in decreased lung capacity. It irritates the respiratory system and causes inflammation and tightening of airways leading to difficulty in breathing. Longer exposures can aggravate existing heart and lung conditions. People with asthma, the elderly, and children are even more sensitive to SO2 exposures. 
Sulfur Dioxide Environmental Effects
SO2 has a direct negative impact on the natural environment. At high concentrations, SOx can harm trees and plants by damaging foliage and limiting plant growth. When deposited, SO2 turns the leaves of the trees and plants yellow.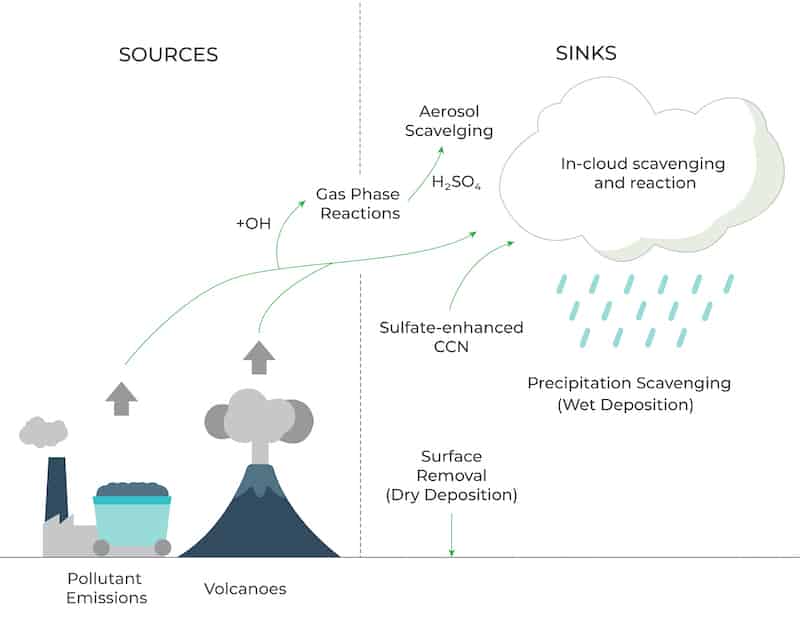 SO2 present in the atmosphere can mix with moisture and other chemicals in the air forming acids, which fall to the earth as acid rain.
Acid rain can harm sensitive   ecosystems:
It can cause direct harm to trees and plants by damaging exposed tissues and, subsequently,  decreasing plant growth
Also affects aquatic ecosystems such as streams and lakes turning them acidic and toxic to aquatic life.
It changes the makeup of the soil affecting its quality and fertility.
Particulate matter formed in the atmosphere due to SOx emissions, when inhaled, can penetrate deeply into the lungs and in sufficient quantities can cause severe health problems including damaging lungs, heart, and even the brain. The deposition of these particles can also stain and damage stone and other materials, including culturally important objects such as statues and monuments. Additionally, the sulfate-containing particles can contribute to the formation of smog and thick haze that reduces visibility in addition to impacting health. 
Possible corrective measures
The primary step is SO2 monitoring to identify the areas with high SO2 levels or areas where air quality does not meet the national SO2 standards. In addition, here are some of the corrective measures:
Promote the use of alternative renewable energy such as solar, wind, or hydro to produce power.
Promote the use of alternative fuels i.e. fuels with lower or no sulfur content
Avoid living in the areas downwind of industrial sites and coal-based power plants.
Also, avoid any physical activity outside when pollution levels are high, especially on hot days. Stay indoors until it cools down outside and the air is fresh.
How to measure SO2 in air
They are methods for accurately measuring SO2 levels in the air. and It is critical for regulatory, environmental, and public health assessments.
Measurement methods of SO2 monitoring
Different working principles for sulfur dioxide monitoring in the ambient environment are U.V. fluorescence, semiconductor, and electrochemistry.
U.V. Fluorescence
The SO2 monitor working on UV fluorescence is based on the emission of a characteristic fluorescence when SO2 molecules are irradiated by U.V. light. When the air sample taken by the SO2 monitor is exposed to the beam of U.V. radiation in the region of 190-230 nm,  SO2 gas present in the sample gets excited by the absorption of this light. They emit characteristic fluorescence radiation of 320-380 nm when they return to their ground state which is passed through a filter that only allows the radiation of this particular wavelength to pass through and is recorded by the detector (photomultiplier tube). The higher the SO2 concentration in the air sample, the greater will the fluorescence be. This method for SO2 monitoring is the most widely used principle in analyzers.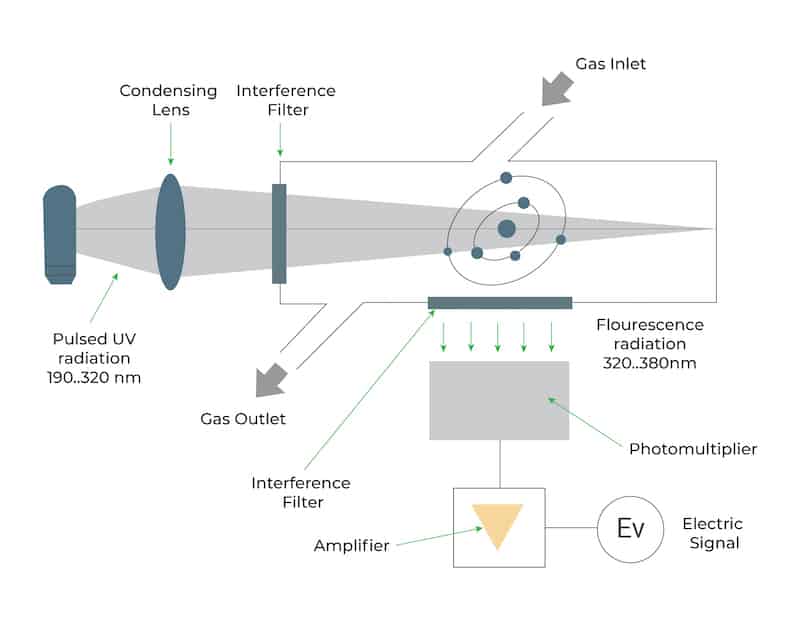 Semiconductor method for SO2 monitoring
When a metal oxide semiconductor-based SO2 monitor is exposed to an air sample, the sulphur dioxide molecules react on the metal oxide surface of the sensor and dissociate into charged ions which alter the resistance of the film. This interaction is measured as a signal and is converted to the respective gas concentration. However, when compared to other SO2 monitors, the energy consumption of such sulphur oxides monitors is higher.
Electrochemical method for SO2 monitoring
The electrochemical principle works on the diffusion of sulfur dioxide gas into the respective sensor which results in the production of electrical signals proportional to the SO2 concentration. It allows accurate measurement of even low concentrations of SOx, which is essential in SO2 monitoring for the ambient air.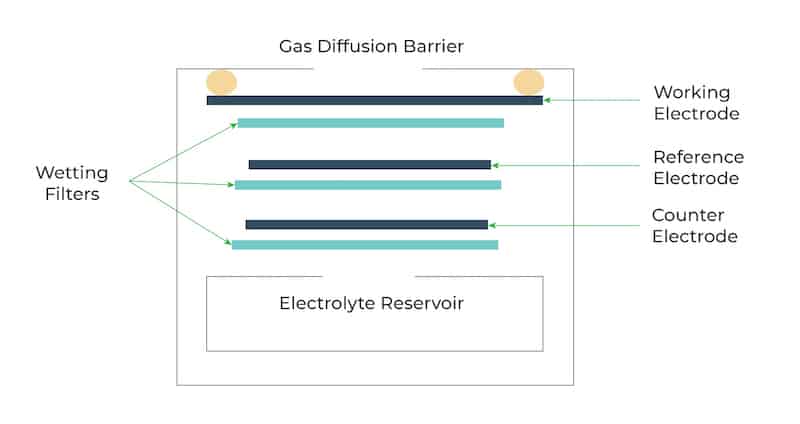 Among all the above principles of SOx monitoring, applications like ambient air monitoring prefer sulphur dioxide monitors based on electrochemistry. This is because they yield more accurate SOx concentrations and are inexpensive in comparison with the others.
Oizom's working principle for SO2 monitoring
Oizom's AQBot SO2 Air Quality Monitor helps professionals in monitoring Sulfur Dioxide concentration in real time. The AQBot – SO2 works on the principle of electrochemical sensing.
In addition, Polludrone also offers SO2 monitoring for ambient air monitoring applications. Several cities, campuses, and universities have deployed the active sampling-powered sensor-based air quality monitor POLLUDRONE for drawing actionable insights to tackle the rise in ambient nitrogen oxide concentrations.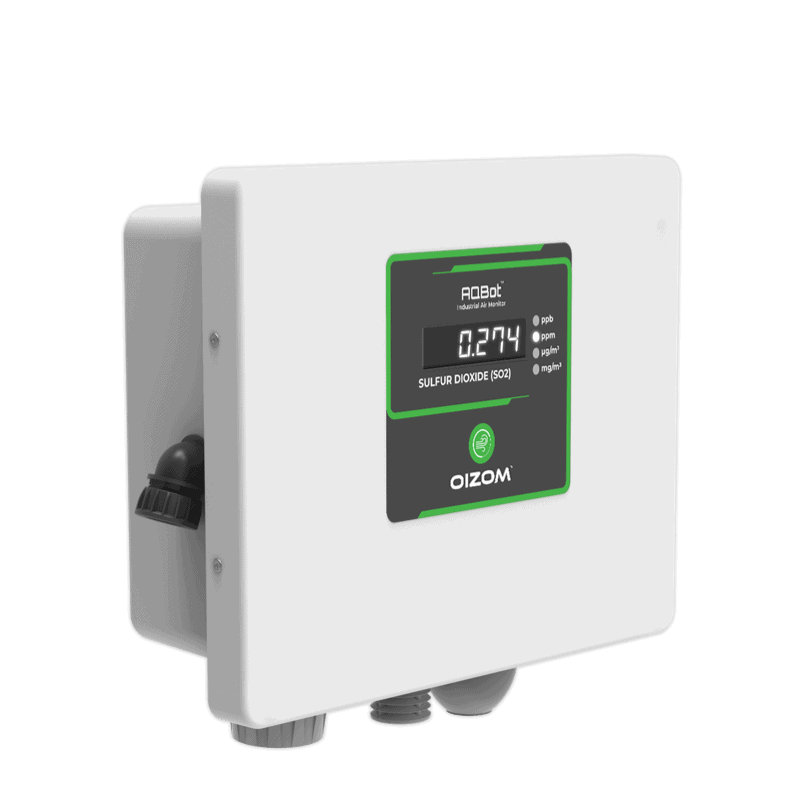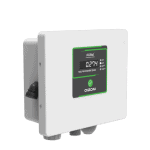 5 Reasons Why SO2 Monitoring is Important
Sulfur dioxide is one of the critical air pollutants. The combustion of sulfur-containing fuels, majorly emitted from coal-based energy production results in poor air quality.
SO2 is a precursor of other sulfur oxides such as SO3 and many secondary air pollutants including particulate matter, smog, acid rain, etc. which have a negative impact on human health and the environment.
Exposure to high levels of SO2 can lead to long-term effects on the respiratory system, especially in children, the elderly, and people already suffering from respiratory issues.  
SO2 monitoring is an efficient way to detect and reduce exposure to sulfur oxides which further benefits in reducing the formation of particulate sulfur pollutants like fine sulfate particles, acid rain, and smog. 
Real-time monitoring of SO2 levels helps in calculating the air quality index to deliver health advisories as well as formulating an action plan to meet standards.  
FAQs
1)Where does sulfur dioxide come from?
Sulfur dioxide (SO2) is primarily produced from the burning of fossil fuels like coal and oil in power plants and industrial processes. It can also be released during volcanic eruptions and from certain chemical reactions involving sulfur-containing materials
2)what is so2 in air quality
SO2, in terms of air quality, refers to sulfur dioxide, which is a harmful gas present in the atmosphere. It is one of the key pollutants monitored to assess air quality and its impact on human health and the environment.
3)What is the full form of SO2?
The full form of SO2 is "Sulfur Dioxide." It is a chemical compound composed of one sulfur atom and two oxygen atoms, represented by the molecular formula SO2.