The air we breathe has an immeasurable impact on our lives. It's not just a matter of sustenance, health, and well-being. As urbanisation and industrialisation continue to surge, the need for robust air quality monitoring becomes more pressing. Today, air quality monitoring isn't merely a trend; it's a necessity.
Real-time air quality monitors have revolutionised the way we approach air quality. Oizom's innovative air quality monitors offer a comprehensive solution to understand, analyse, and take actionable measures. It's not just about data; it's about building a healthier future.
In this blog, we will dive into the multifaceted benefits of air quality monitoring, exploring how technology is reshaping our relationship with the environment. From improving public health to playing a critical role in climate change mitigation, we will discover how companies like Oizom are at the forefront of this critical mission.
Benefits of Air Quality Monitoring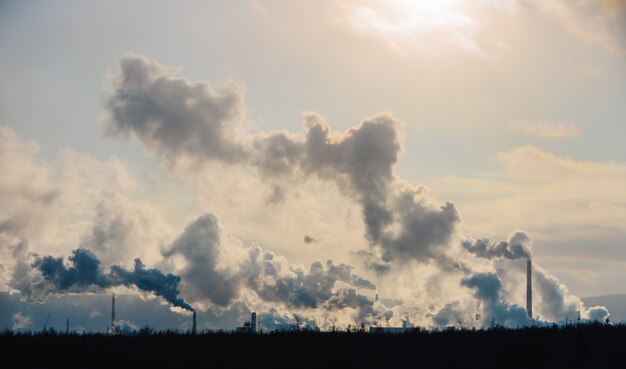 The saying "We are what we breathe" couldn't be truer. Air quality directly impacts public health; monitoring it is akin to taking our environment's pulse. Poor air quality leads to respiratory problems, heart diseases, and many other health issues.
By employing state-of-the-art air quality monitors like those provided by Oizom, municipalities and industries can detect harmful particles and gases in the air. These monitoring systems provide real-time data that can be used to alert communities and take immediate action.
In cities like London, where smog was a historical menace, implementing sophisticated air quality monitoring has led to cleaner air and enhanced public well-being. Hospitals have reported fewer admissions for respiratory issues, demonstrating a tangible improvement in public health.
Reduction in Airborne Viruses and Bacteria
Clean air isn't just about being free of smoke and dust. Airborne viruses and bacteria are invisible threats that can spread illnesses like wildfire. Effective air quality monitoring can provide insights into these microorganisms and their movement patterns.
For instance, Oizom's air quality monitoring devices offer filters and detection methods to pinpoint airborne pathogens. During the recent global pandemic, these technologies played an instrumental role in tracking the density of airborne viruses in public places.
Cleaner and Healthier Indoor Environments
Indoor environments often lack ventilation, trapping pollutants, allergens, and other hazardous substances. From office buildings to residential spaces, air quality monitoring ensures that indoor environments remain safe and comfortable.
Oizom's indoor air quality monitors offer an unparalleled approach to maintaining optimal air quality. These devices can detect pollutants like VOCs (Volatile Organic Compounds), CO2, dust particles, and more, enabling homeowners and businesses to take preventive measures.
Protection from Harmful Emissions
Industries are significant contributors to air pollution. Harmful emissions from factories, vehicles, and power plants are ever-present threats that can wreak havoc on both the environment and human health. Monitoring these emissions is vital for ensuring compliance with environmental regulations and protecting the public.
Oizom's emissions monitoring systems provide an effective way to gauge the quality of emissions from industrial sources. Real-time data aids in identifying any deviation from prescribed limits, allowing for prompt corrective action.
Environmental Conservation
Air quality monitoring plays an instrumental role in preserving our natural ecosystems. Pollutants in the air can affect soil, water, and entire species, threatening biodiversity. Monitoring helps in understanding these threats and formulating strategies to mitigate them.
Oizom's solutions extend beyond urban areas, reaching into natural environments where they monitor for abnormalities that might signal environmental distress.
Data for Research and Analysis
Data is the driving force behind environmental progress. Robust air quality monitoring offers detailed insights that researchers, policymakers, and scientists can use to understand trends, make predictions, and formulate policies.
Leading research institutions across the UK have used Oizom's air quality monitors. The data collected have led to groundbreaking studies on climate change, urban planning, and public health, among other areas.
Interested in leveraging air quality data for research and analysis? Contact Oizom to explore our advanced solutions.
Efficient Industrial Operations
In an era where sustainable business practices are paramount, industries must adapt to meet environmental standards without compromising operational efficiency. Air quality monitoring offers a pathway to this harmonious balance.
Oizom's industrial air quality monitoring systems facilitate continuous emissions monitoring, indoor air quality, and process efficiency. By understanding the air quality parameters, industries can optimise processes, reduce waste, and adhere to environmental compliance.
Climate Change Mitigation
Climate change remains the most pressing environmental challenge of our time. Air quality monitoring is a critical tool in the global effort to mitigate its effects. We can develop targeted strategies to reduce greenhouse gas emissions by understanding pollutant sources and trends.
Oizom's climate-focused monitoring solutions offer an intricate understanding of how pollutants interact with the atmosphere. 
Real-time Air Quality Information
The advent of real-time air quality information has been a game-changer in environmental management. Citizens, authorities, and businesses now have immediate access to air quality data, allowing for timely responses to potential threats.
Support for Urban Planning
Urban planning is a complex process that requires a fine balance between development and sustainability. Air quality data gives urban planners essential insights to shape livable and environmentally responsible cities.
At the heart of air quality monitoring lies a profound impact on our quality of life. Cleaner air means healthier living, better urban spaces, thriving natural environments, and a brighter future.
By choosing solutions like Oizom's air quality monitors, communities across the globe are taking strides towards a better tomorrow. From small towns to bustling cities, the ripple effect of improved air quality can be felt in every aspect of daily life.
Air quality monitoring is more than technology; it's a commitment to our planet and ourselves. From protecting public health to driving industrial efficiency, the benefits are multifaceted and far-reaching.
Oizom offers advanced and accurate real-time monitoring solutions for empowering action. And as we face unprecedented environmental challenges, embracing air quality monitoring is not an option but a necessity.
Join the environmental revolution with Oizom. Explore our range of air quality monitors and step towards a cleaner, healthier future. Contact us today.
With Oizom's dedication and innovative approach, the promise of a world with cleaner air isn't just a vision; it's a reality within reach.