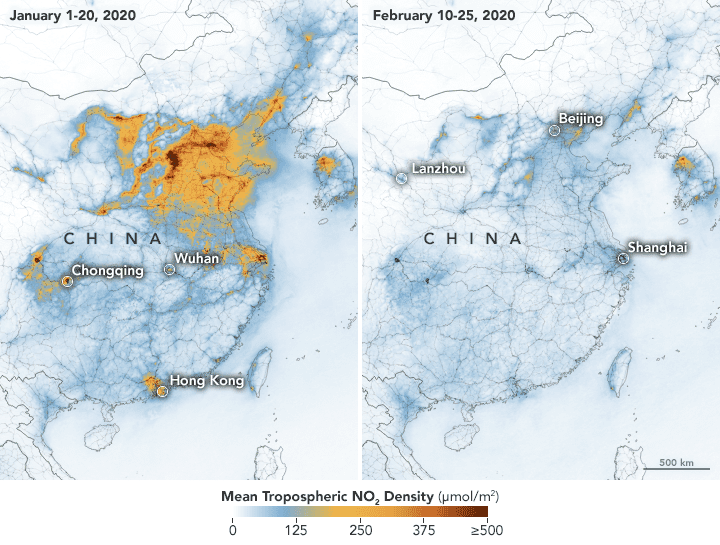 The world is facing a global pandemic. The governments have declared national emergencies. Empty streets. People locked in their houses.
Does this sound like some 'doomsday' movie plot? Probably yes.
But unfortunately, this is what's happening in the world right now.
The coronavirus epidemic that started in the Wuhan district of Hubei Province in China on 17th November 2019 has now become a threat to the world. The most alarming thing about this COVID-19 virus is that its symptoms are not visible immediately and it may take 2-14 days before they appear. This has led to its viral spread.
From China, the virus first spread to Thailand. Since then it is spreading at an unstoppable rate all around the world. Currently, the Chinese government has imposed a quarantine in Wuhan. The city has been under lockdown to prevent further spread. Several other cities and countries have been under quarantine or lockdown looking at the severe spread.
As of 19.03.20, 1400 hrs, a total of 2,18,943 people have been infected and the pandemic has resulted in 8,957 casualties across the globe.
By the way, did you know that epidemic and pandemic are two different terms?
An epidemic is when a certain disease has risen beyond the normally expected number in a geographical area, while it converts into a pandemic when it has spread across many countries and affects a large number of people.
How has it impacted daily lives?
People are being careful in contacting other people. Mass gatherings are being avoided. Social distancing is being followed more strictly than ever. Those who are returning from international travels, especially from the worst-hit countries are being quarantined for the virus. Common people are panicking and are stocking up daily ration and essentials, which is further increasing the panic.
Hospitals are working at their 200% capacity to handle the surge of infected people. People are being responsible and aware, and even at the slightest hint of the chances of infection, are quarantining themselves and getting tested. The government is providing full support to the common people.
Amongst this pandemic chaos in the world, recently we noticed one of its surprising effects.
On 3rd March 2020, NASA released a satellite image of China which shows a drastic drop in the pollution in some Chinese regions, including Beijing, Shanghai, Hong Kong, and Wuhan. The map shows the level of atmospheric NO2 in the areas before and after the Chinese government imposed quarantine.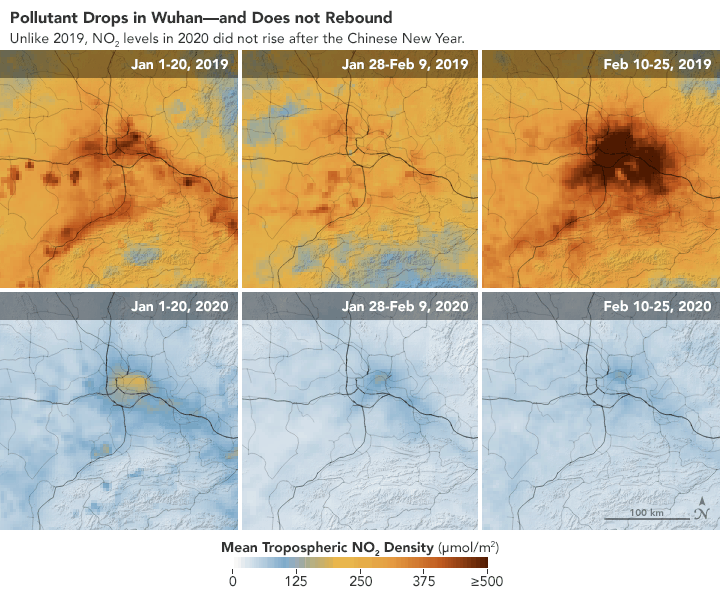 It shows the NO2 level over two periods – January 1-20 when the pollution was higher and February 10-25 when the NO2 concentration has almost diminished. The pollution level in these regions generally drops during this time of the year due to Lunar New Year, but the decline has never been so stark. The emission reduction was first evident in and near Wuhan, but then eventually spread across the country.
The effect of air pollution was also observed during the SARS outbreak back in 2003. In China, the probability of the fatality rate was twice as higher in regions with poor quality air than those having good air quality.
Is this decline in Air Pollution linked to the virus spread?
The answer is yes.
The US space agency says that the drop in NO2 level is linked partly to the economic slowdown.
Since the outbreak, the city has been under quarantine. Chinese authorities have shut down all local businesses and transportation to and from Wuhan. Most parts of China are under lockdown. People are staying back at home, halting planes, trains, subways, and most private vehicles. The operations of factories and power plants have been suspended. The curb in transportation and industrial emission is what has led to NO2 reduction.
This has resulted in economic lockdown in China. It led to a positive impact as the major sources of pollution in China are industrial emissions from major manufacturing hubs and a surge in vehicular emission due to the increased population. The quarantine has put a reign on these factors.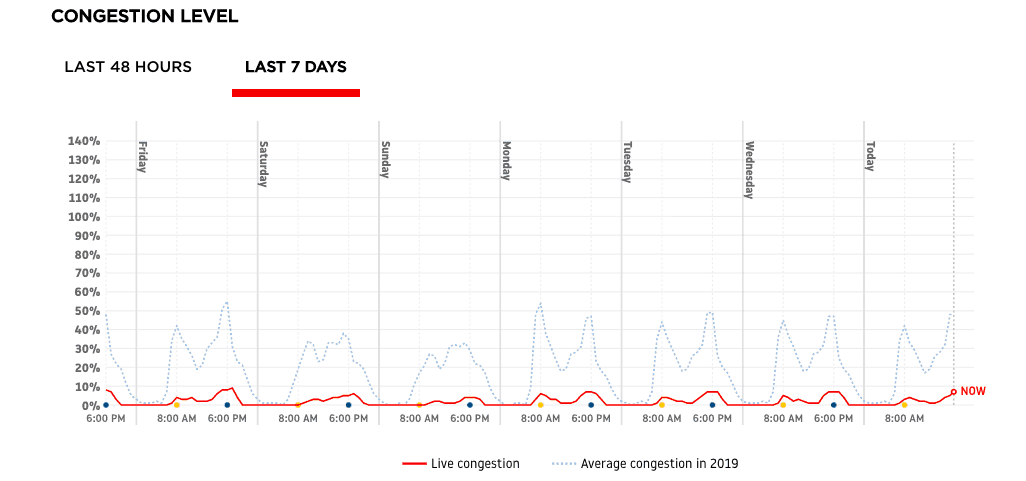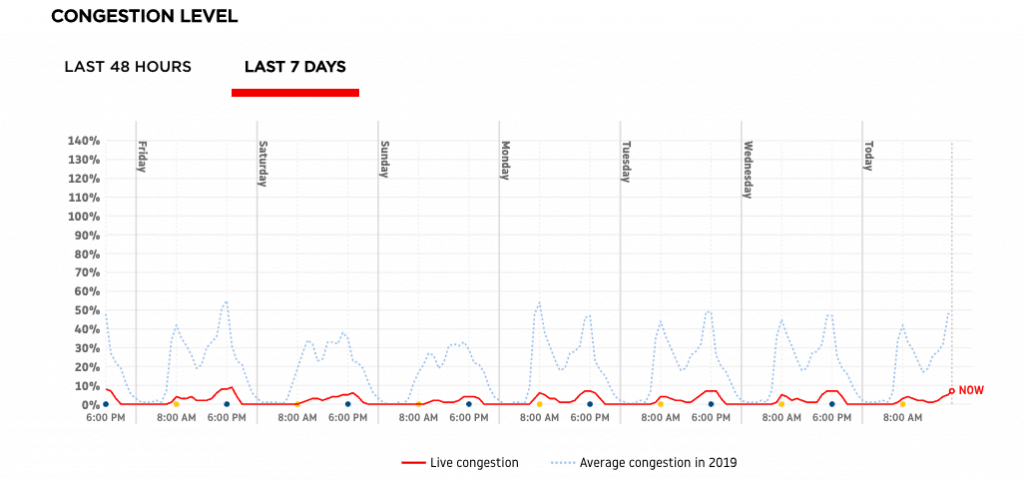 Impact on Pollution around the world
After imposing travel restrictions across various cities in the world, this reduction in emissions has been observed in multiple countries. According to FlightRadar24, the aircraft flight traffic website, global air traffic has reduced by 4.3% in February. Most of the US airlines have suspended international flights to the affected areas. As per the New York Times, air travel accounts for 2.5% of carbon emissions globally. Imposing travel bans has proven to be beneficial for the environment.
Apart from travel, people are also implementing changes in their working style. Organizations have been advised to cancel meetings and business travels. Most of the companies have initiated remote work or 'work from home' policy to avoid mass gathering.
Is this a silver lining?
Although the reduction in pollution concentration seems like a positive outcome of this unfortunate COVID-19 outbreak, it is only short-lived. It can make a small tweak but is not going to mitigate climate change.
Once the crisis is under control and the economy takes back its hold, there are chances that this positive impact will be erased. China will try to compensate for the economic loss by speeding up the manufacturing process and ramping up industries and power plants.
This outbreak can teach us a lesson on how to remold our lifestyle to curb pollution emission. Reducing unimportant travel frequencies, opting for remote work, and using more greener ways of living are some ways we are learning that can help us in the long run.
Desperate times call for desperate measures. The governments all over the world have taken immediate and prompt actions to prevent the infection. This shows that we can take strict measures for environmental protection also.
The cleaner air currently will bring some relief to the people of China. But of course, it comes with an unimaginable cost of human lives. The world is united to fight the situation, and we need to focus on the cumulative emission to really solve the pollution problem.
How can the Air Quality Monitoring System (AQMS) help?
On average, 1.1 million premature deaths occur due to pollution in China. It is the world's largest CO2 emitting country, with 9.8 billion metric tons of CO2. Short term exposure to NO2 can induce breathing difficulty whereas longer exposure can escalate the problem and can increase vulnerability to respiratory infections. It also reacts with other chemicals to create soot, smog, and acid rain.
Outbreaks like SARS and COVID-19 suggest that whenever such epidemics occur, it will impact the environment and human health. Ambient Air Quality Monitoring thus becomes very crucial to understand such scenarios. A well-strategized network of air quality monitors can give all the information about air pollutants present in the atmosphere like NOx, CO2, CO, SOx, VOCs, PM, and harmful gases.
Real-time ubiquitous monitoring and microdata analysis of the environment can help in understanding the pollution level of each area and take preventive and corrective action on-time. AQMS can help in identifying the primary source of different pollutants and leverage situations like this, where we observe a reduction in pollution concentration in a particular region and scale it to encompass larger areas for pollution control.