Noise is a type of sound and is defined as unwanted, annoying, unpleasant, or loud. Noise pollution is an invisible danger. It is sounds or noises that are either unnatural in volume or production. Noise is one of the most common occupational health hazards in heavy industrial and manufacturing environments, as well as other situations such as farms, cafeterias, or bars. The main health concern of exposure to high noise levels is hearing loss. Noise pollution can also cause annoyance, stress, and interference with speech communication. The first step in dealing with noise is the identification of areas or operations where excessive noise exposure occurs which is done through noise monitoring.  This article covers information on Noise as a pollutant, its sources, permissible limits, health and environmental impact, corrective measures and methods, and principles of monitoring noise.
What is Noise?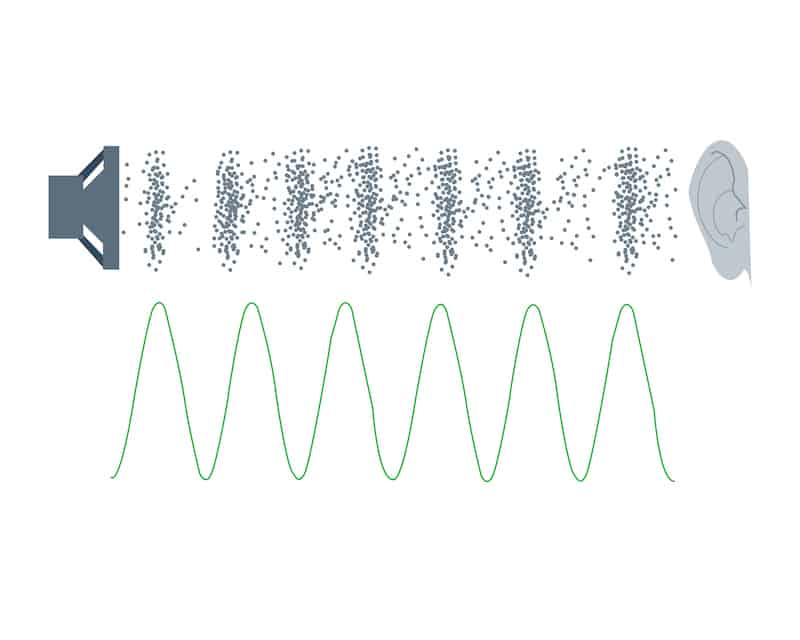 Sound Waves are generated by continuous vibration of a source that pushes the molecules of the air in a series of condensation (crowding together of the molecules) and rarefaction (thinning out of the molecules) creating a wave-like structure that travels through the medium disturbing the particles. Sound intensity can be measured by decibels (dB).
A sound becomes unwanted when it interferes with normal activities such as sleeping, and conversation, or disrupts or diminishes one's quality of life. Noise is unwanted sounds that exist in the environment and is a pervasive environmental pollutant that causes annoyance and can be perceived as stressful. 
The noise itself is considered noise pollution, it is a type of pollution that exists in the form of waves. 
There are two important characteristics of sound or noise – frequency and loudness. When sound travels through the air, the atmospheric pressure varies periodically. Frequency is the number of sound waves (i.e. complete cycles of high and low-pressure regions) propagated through the air per second. It is measured in Hetz i.e. number of cycles per second. The higher the frequency, the more high-pitched a sound is perceived. The range of frequencies heard by the human ear is 20 Hz – 20,000 Hz. The human ear has a peak response of around 2,500 to 3,000 Hz and has a relatively low response at low frequencies.[1] 
Loudness is the subjective perception of sound pressure, dependent on the energy received by the ear in unit time. Intensity is a measure of the amount of energy in sound waves. It is the power carried by sound waves per unit area in a direction perpendicular to that area. The SI unit of intensity is the watt per square meter (W/m2). It can be applied to locate the source of the noise in terms of energy.  
Humans hear high-frequency noise much better than low-frequency noise.  Noise measurement readings can be adjusted to correspond to this peculiarity of human hearing. An A-weighting filter which is built into the sound measuring instrument de-emphasizes low frequencies or pitches[2]. Decibels measured using a sound meter equipped with this filter are A-weighted and are called dB(A). A perceived loud noise has a high dB or dB(A) value and a soft noise has a low one. The typical decibel levels of different sounds are given below: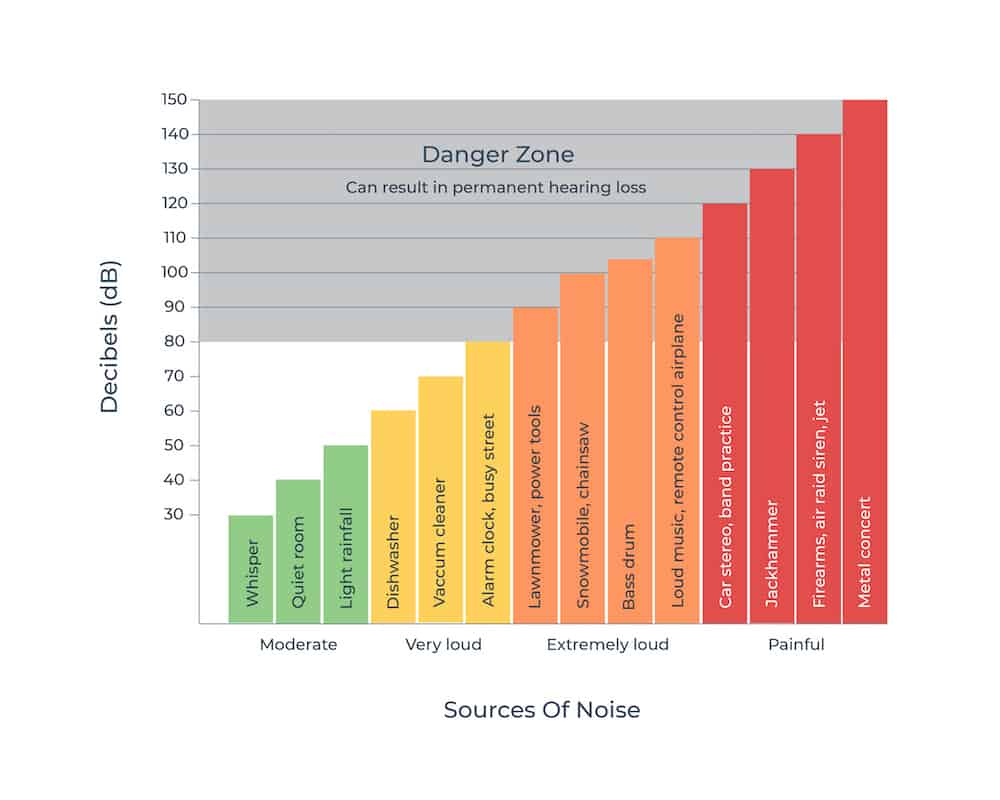 With the increase in the decibel levels, sound waves have greater intensity and the sounds become louder.  A total silence means 0 decibels. For every 10-decibel increase in the intensity of sound, loudness is 10 times greater. I.e, a 30-decibel "quiet" room is 10 times louder than a 20-decibel whisper, and a 40-decibel light rainfall is 100 times louder than the whisper.
Sources of Noise
Noise include not only raised human vocals but also sounds from various sources like construction sites, radio, microphones, automobiles, railway engines, irrigation pumps, etc that breaks the silence of the environment. 
The sources of noise are classified into –
Industrial Noise
Industries generate noise at every stage, like welding, hammering, drilling, blowing, running machinery, motors, sheet metal work, lathe machine work, operation of cranes, grinding, turning, riveting, fabricating, forging, compressing, vacuuming, breaking, molding, steaming, boiling, cooling, heating, venting, painting, pumping, packing, transporting, etc. 
As mechanical noise is the major part of industrial noise and is due to machinery of all kinds and often increases with the type of operation and power capacity of the machines.
Non – Industrial Noise
Non-industrial source of noise includes the noise created by transport/vehicular traffic and the neighborhood noise. Some common sources are noted below, 
Road Traffic Noise – The most widespread source of noise, and is directly proportional to the volume of vehicles. The major sources of noise in automobiles are exhaust, intake, engine, fan, and tires at high speed.
Noise from railroads – Noise from locomotive engines, horns and whistles, and switching and shunting operations in rail yards can impact neighboring communities and railroad workers.
Construction Noise –  Noise from the construction of highways, city streets, and buildings is a major contributor to the urban scene. Construction noise sources include pneumatic hammers, air compressors, bulldozers, loaders, dump trucks (and their backup signals), and pavement breakers.
Residential Noise –  Noise generated from day-to-day activities in households and residents such as exhaust Fans, lawn movers, mixes, grinders, fans, cooling & heating system, T.V & Music systems, motors used for pumping, etc. Community noise is generated from community gatherings such as festivals, fairs, marriages, or public functions, and also the use of Loudspeakers.
Permissible exposure limits of Noise
Indian Standards
According to Noise Pollution (Regulation and Control) Rules, 2000 by the Government of India, the permissible ambient noise levels for different areas/zones are: –
Area Code
Category of 
Area/Zone
Limits in dBA, Leq
Day Time
Limits in dBA, Leq
Night Time

A
Industrial Area
(6 am – 10 pm)
(10 pm to 6 am)
B
Commercial Zone
0.1 ppm (15 mins)
20 ppm
C
Residential Area
–
–
D
Silence Zone
 
 
OSHA Standards
OSHA (Occupational Safety and Health Administration), sets noise exposure limits at an employee's location for environments of steady noise, mixed noise, and impact noise. Protection against the effects of noise exposure shall be provided when the sound levels exceed those shown in Table: –
| | |
| --- | --- |
| Duration per day, hours | Sound level dB(A) |
| 8 | 90 |
| 6 | 92 |
| 4 | 95 |
| 3 | 97 |
| 2 | 100 |
| 1.5 | 102 |
| 1 | 105 |
| 0.5 | 110 |
| <0.5 | 115 |
Impact of Noise
Health impact
Noise at low levels is not necessarily harmful. However, at higher decibels, it induces sleep disturbance, anxiety, hearing damage, and cardiovascular health problems. 
The effects of noise on people can be classified into two categories:
Auditory effects
Noise induced hearing loss – Loud noise attacks the sensitive hair cells of the inner ear. Noise-induced hearing loss typically occurs gradually and without pain. It is in fact, a cumulative effect. However, there are some early warning signs such as buzzing in the ears and muffling of sounds that should not be avoided.
Speech Interference – Noise interferes with our ability to communicate. The 
noise levels, not enough to cause hearing impairment, can interfere with 
speech communication (conversations).
Psychological effects
Annoyance – Mainly aroused due to the unpleasant nature of some sounds. It causes adverse effects on task performance and behavior. 
Sleep interference – Noise disturbs a person's sleep especially played in resting hours. Lack of sleep induces various other health and psychological problems. 
In the Occupational sector, high-frequency noise levels greater than 1000–2000 Hz are found to be more disruptive. it affects the accuracy of work and produces shifts in the visual field, even moderate noise levels can increase anxiety and the risk of hostile behavior.
Environmental Impact
Anthropogenic noise pollution is affecting a range of animals across multiple habitats. It is altering their natural behaviors and there're relocating to avoid noisy areas. 
Marine animals are also affected by noise from a range of human activities including commercial vessel traffic, oil and gas exploration, seismic surveys, and military sonar. These human activities can produce noise that can be larger than 200 dB. Marine creatures such as dolphins and whales use the method of echolocation for communication, but due to external noise, their way of communication is affected. Whales can no longer navigate through water and are often found stranded onshore. 
Insects that pollinate are affected by noise and they may disappear causing an indirect impact on plants and animals.
Possible corrective measures
Engineering Controls 
Modification or replacement equipment, or making related physical changes at the noise source or along the transmission path to reduce the noise level at the worker's ear. 
Can be achieved by: –
Opting for low noise generation tools and machinery.
Maintenance and lubrication of machinery and equipment.
Barrier placement between the noise source and employee.
Isolation of noise source.
Administrative Controls
Changes in the workplace or schedule that reduce or eliminate the worker's exposure to noise.
Operating noisy machinery when fewer workers are exposed.
Limiting the amount of time a person spends at a noise source 
Providing quiet areas to escape from noise
Preventive Measures for Ambient Noise Pollution
The following steps can be taken to prevent exposure to ambient noise.
Making an accountable effort to reduce noise like stringent standards by the authorities. 
Maintaining a quiet neighborhood
Using alternative means of transport, such as walking, bicycles, or electric vehicles instead of noisy vehicles. 
Getting vehicles checked and lubricated regularly to reduce noise.
Substitution of quieter equipment via modification in design or engineering
Reporting to authorities if noise generation is considered illegal in any regard (loud noise during night or above permissible limit).
Using ear protection equipment.
Noise Monitoring Principle
A source generating the sound creates vibrations in the surrounding propagating medium. As the sound continues, the vibrations propagate away from the source at the speed of sound, forming a sound wave.
Noise is measured using a microphone. It measures sound pressure waves at a variety of frequencies, including the entire range of human hearing and even beyond. Simply put, a microphone is a sensor or transducer that converts sound (acoustic energy) into electrical energy.
The most common type of microphone for sound measurement is the condenser type that operates on a capacitive design. It incorporates a thin metal diaphragm that forms one plate of a capacitor and a metal plate is placed next to it that acts as a backplate. When the sound wave excites the diaphragm, the capacitance between the diaphragm and the backplate changes according to the variation in the sound pressure. This change in capacitance generates a proportional AC signal that is amplified, measured, digitized and analyzed to get the noise measurement.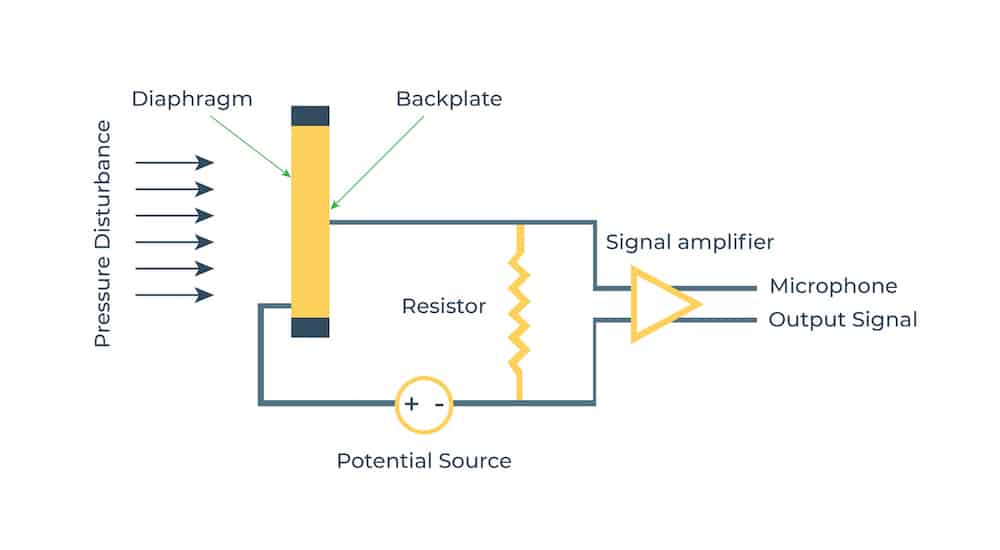 The noise level is recorded and represented in terms of Lmax, Lmin, and Leq Lmax, the maximum sound level, during a measurement period while Lmin, the minimum sound level, during a measurement period.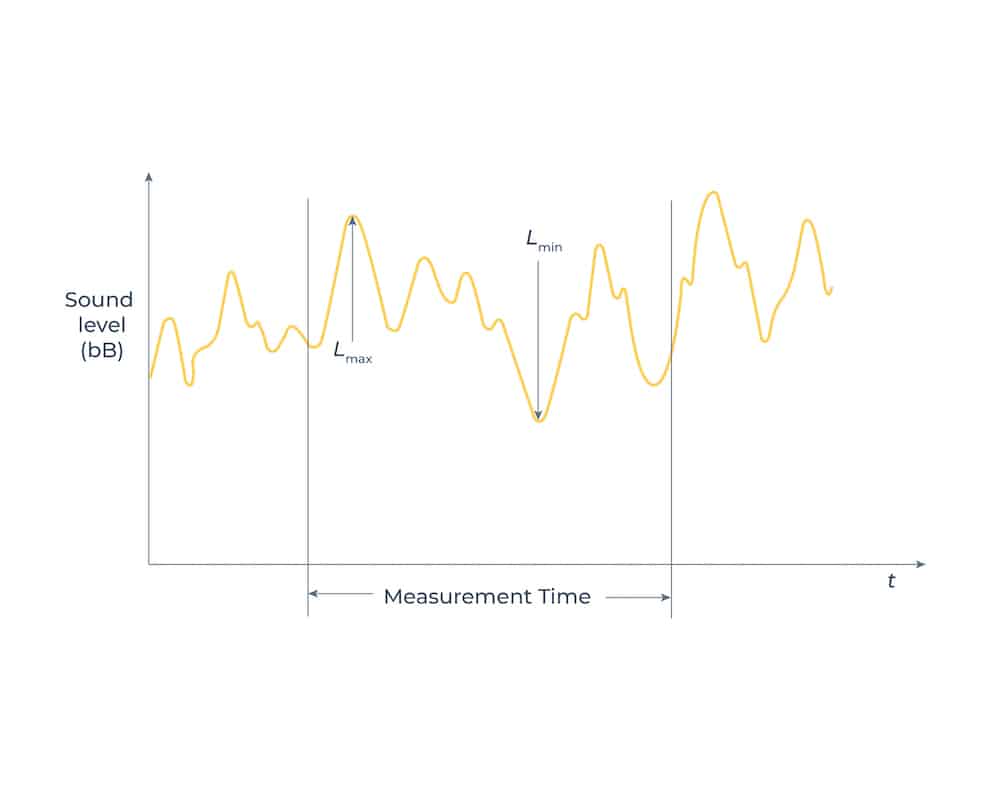 Leq, or Equivalent Continuous Sound Pressure Level, is the fundamental measurement parameter designed to represent a varying sound source. It is the sound level having the same total sound energy as the fluctuating level measured. It is calculated using the below equation:
Here, 
Leq = equivalent continuous sound pressure level in dB
p0 = reference pressure level (typically 20 µPa)
pA = measure sound pressure level by the microphone
t1 = start time for measurementt2 = end time for measurement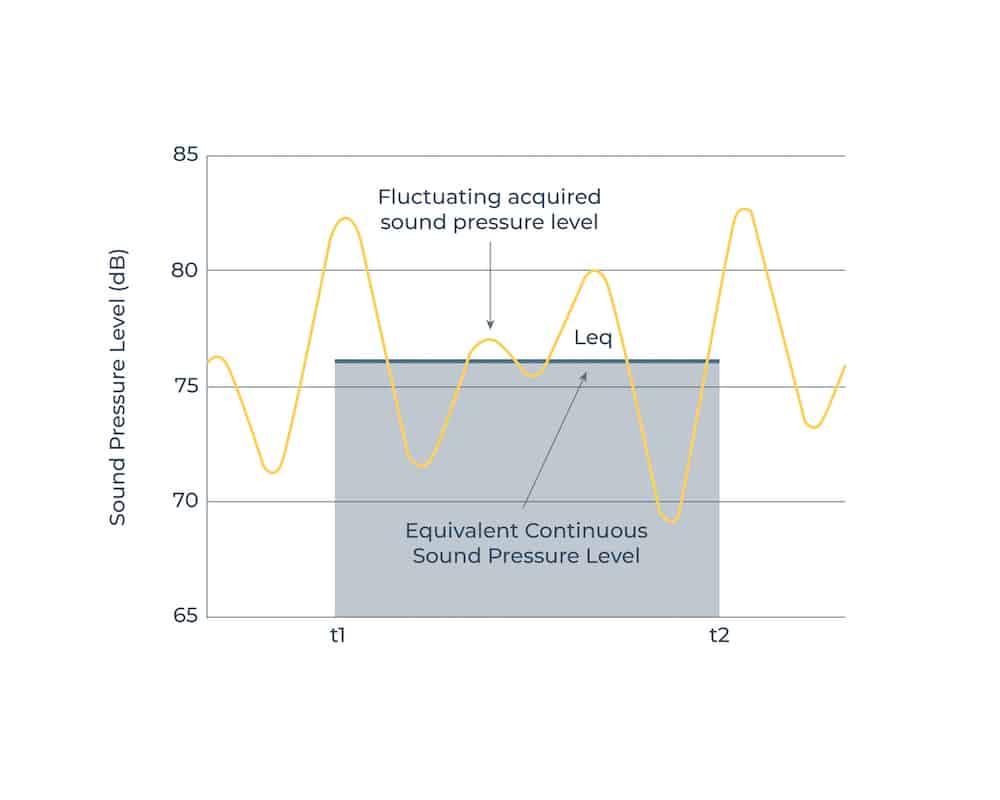 Oizom's working principle for Noise Monitoring
Oizom's Polludrone measures more than 30 parameters including air pollutants like noise, carbon monoxide (CO), sulfur dioxide (SO2), nitric oxide (NO) nitrogen dioxide (NO2); dust particulates like PM2.5, PM10, and weather parameters like rainfall, wind speed and wind direction. The sensor measuring noise is the condensor type microphone that operates based on capacitance principle. The active sampling powered sensor-based air quality monitor Polludrone is deployed across several cities, campuses, universities and industries  and is used for drawing actionable insights to tackle the rise in air pollution including noise.