Accurate Air Quality Monitoring
Oizom's air quality monitors provide reference equivalent data with it's two-stage calibration and patented e-breathing technology.
"We are pleased with Oizom's support and service provided. Oizom has made a mark in the state with its breakthrough technology of low-cost sensors, while at the same time maintaining its accuracy in reading the various parameter levels."
Mr Pankaj Chetry, CFO - Volta Engineering Solutions
Accurate Air Quality Monitoring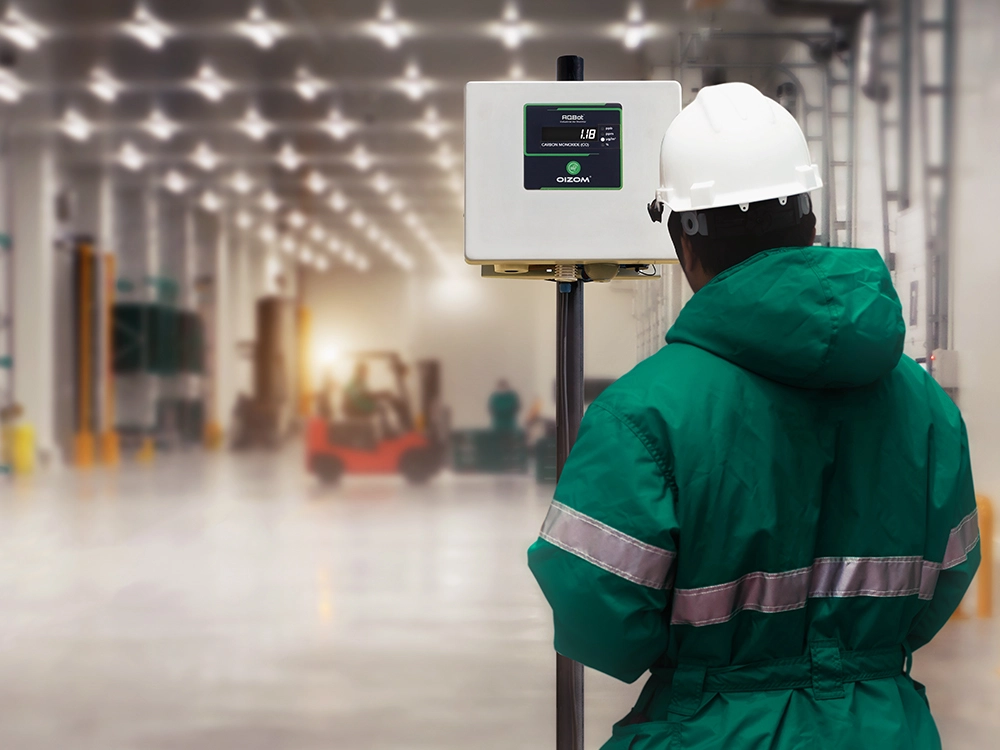 The most stable and accurate air quality monitors
Only Indian company to offer two-stage calibration
At Oizom, our team ensures all the devices provide high accuracy and stable data on the field. Most of the sensor-based air quality monitoring device companies just buy and package the sensors in an enclosure. These companies also have passive monitoring, which makes the data accuracy poor as they have no control over the effect of meteorological parameters on sensor performance.
Oizom on the other side takes third party sensor and work extensively on support electronics and mechanical design to increase accuracy significantly. Each sensor and device goes through a carefully designed process to pass under all the QC and calibration standards.

Two-stage calibration as per US-EPA performance standards
All air quality monitoring systems are calibrated as per the international guidelines by USEPA (the United States Environmental Protection Agency) by the ISO/IEC 17025:2017 certified calibration laboratory to ensure the optimum data quality.

First, a zero and span calibration of each gas sensor is performed in a clean and controlled lab environment using known concentrations NIST traceable calibration gas standards followed by collocation with U.S. EPA designated reference grade analyzers.
Two-stage calibration as per US-EPA performance standerds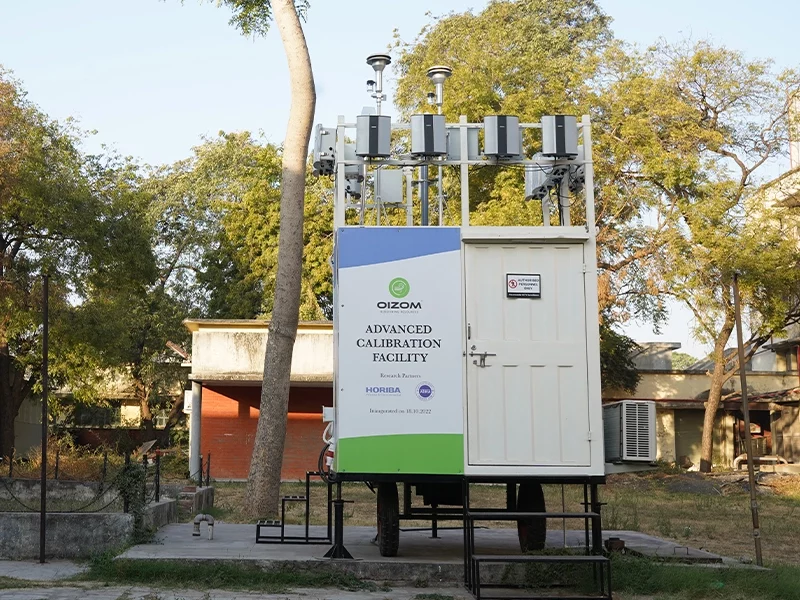 Advanced built in Algorithms for long term accuracy​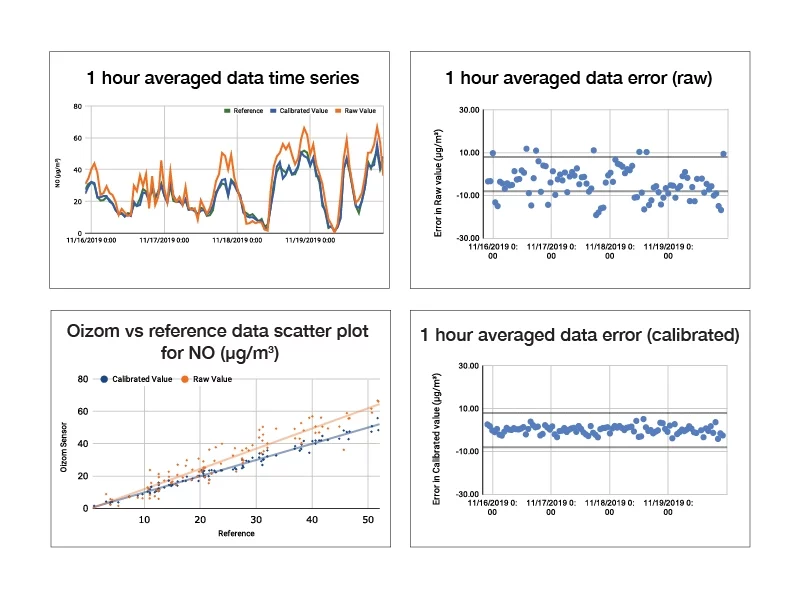 Advanced built in Algorithms for long term accuracy
Air quality sensors monitoring low ppb level measurements are influenced by changes in the external environment like ambient temperature and relative humidity.
Oizom applies advanced data processing algorithms for compensating such effects of temperature and humidity on the sensor output. The algorithm is designed to automatically update based on the weather conditions/seasonal changes removing its influence on the sensor performance.
The advanced algorithms also compensate for the effect of the cross-sensitive gas.
Proprietary Oizom Gas Sensor (OGS) module
The sensor module design is one of the most important components for device accuracy. Each sensor gets integrated into a metal casing along with the ultra-low noise support electronics and base plug-in PCB. The metal casing protects the sensor and electronics from electromagnetic interference which may create false readings.
It is an important component as it helps in eliminating the effect of electromagnetic interference at the installation site resulting in more accurate results. The entire assembly results in a robust module, when integrated onto the sensor board.
Proprietary Oizom Gas Sensor (OGS) module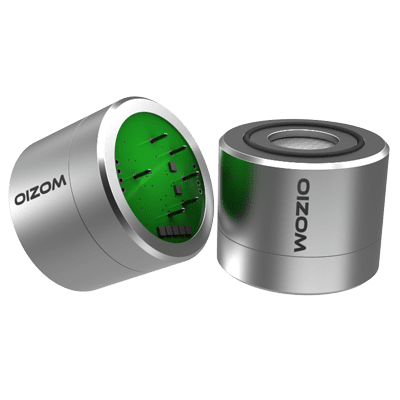 Heated Inlet for humidity control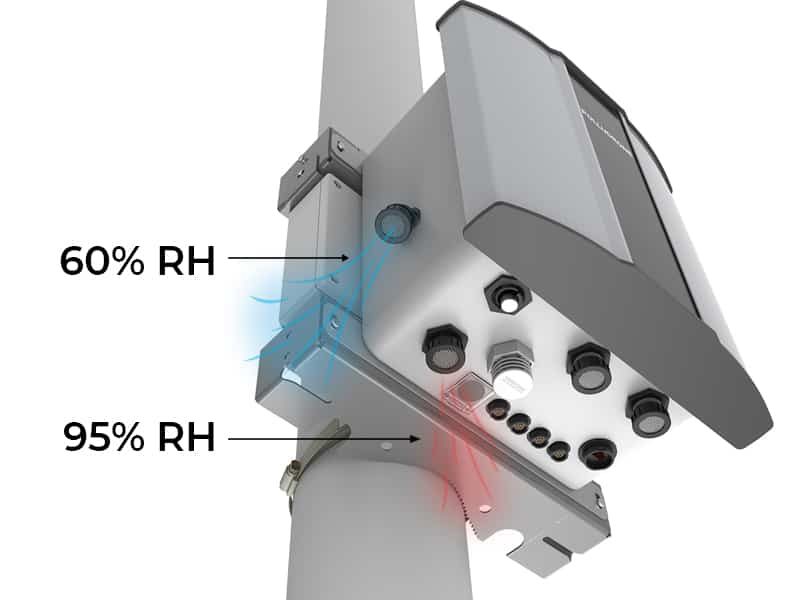 Heated Inlet for humidity control
The dust measurement by laser scattering principle overestimates the PM concentration levels in condensing high humidity conditions. The data accuracy in such conditions is maintained by dehumidification of the air sample using a heated inlet.
Its use reduces the relative humidity of the air sample by 30-40% eliminating its interference in the particulate measurement.
On site calibration capability for long term accuracy
The consistency in the data accuracy which can deteriorate through wear, aging, and environmental influences is maintained through periodic remote calibration.
The patented e-breathing technology and customer OGS modules allows the user to calibrate each sensor onsite easily. The remote calibration can be performed using standard SI traceable calibration gas cylinders of known concentration. In case the infrastructure is not available, the air quality monitors can also be calibrated by co-locating with a reference standard (which can either be a stationary reference station, an equivalent "gold standard" instrument, a mobile reference instrument, or a freshly calibrated Oizom device)
On site calibration capability for long term accuracy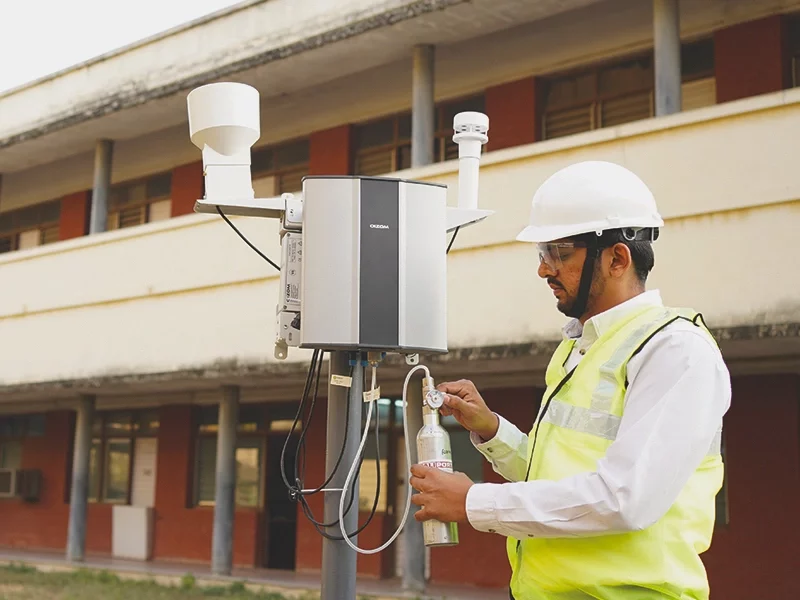 Patented eBreathing® Technology
As a part of our proprietary 'Micro Active Sampling' (e-breathing technology), we have a smartly designed sample intake and monitoring system inside a controlled environment. The sensors are exposed in a special-grade PVDF chamber, to eliminate gas absorption.
An inlet, outlet, and built-in fan arrangement ensure that a controlled amount of air sample is taken into the chamber. This isolates the effect of the external environment on measurement to achieve up to 13% higher accuracy than the industry standards.
Oizom's Extensive Calibration Process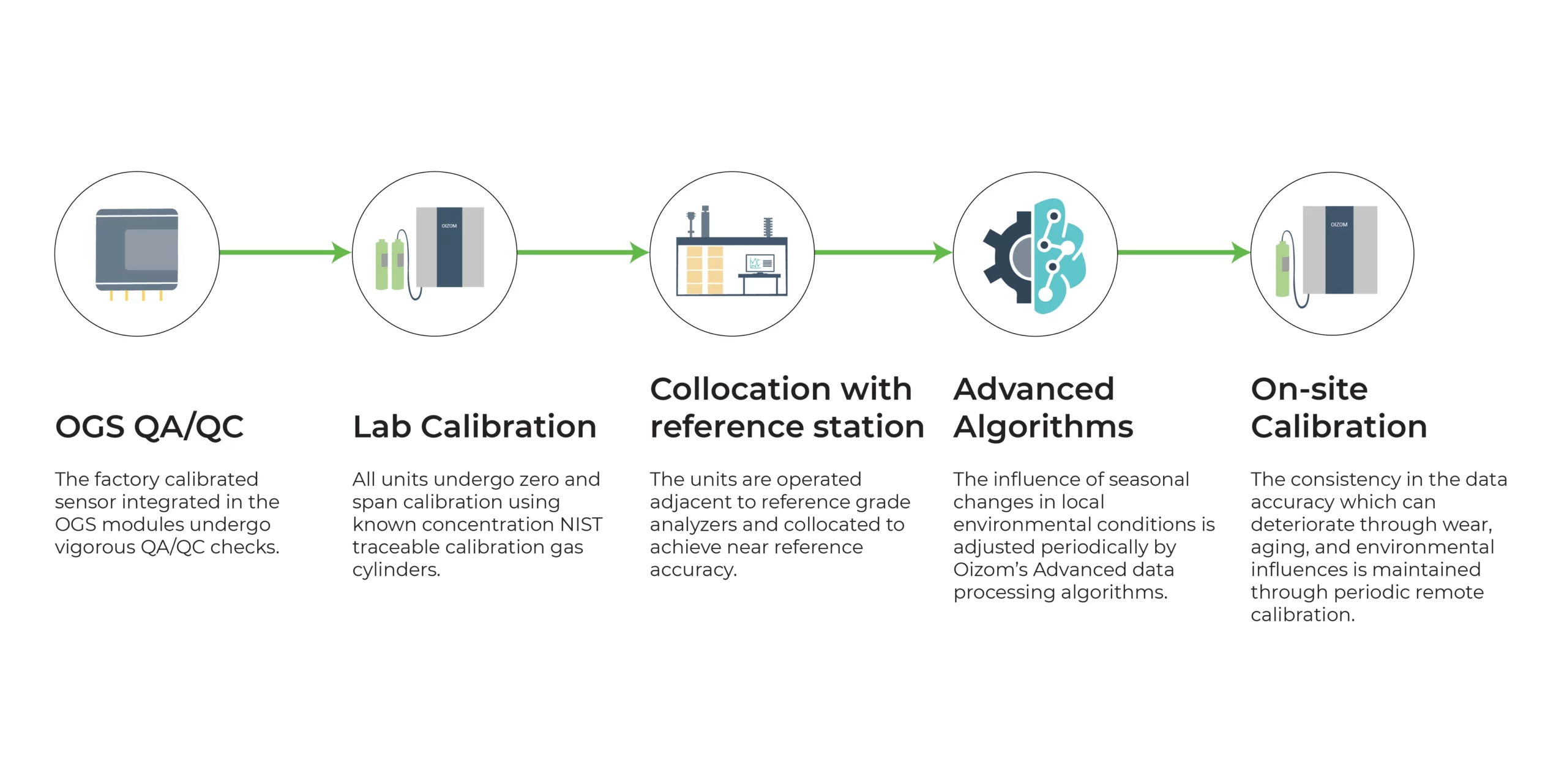 Want to know more about our calibration process?
Schedule a call with our air quality experts to attain a solution for your unique air quality monitoring requirements.
Air Quality Knowledge Partners
Oizom strives to excel continuously and in its journey, we believe in associating with reputed academic institutions. Today, on a consistent basis, we keep improving by our knowledge alliances.
Research Initiatives is a part of Oizom's continued learning program. Through comparative studies, in house experiments, collaborative application research and innovative pilot studies, Research Initiatives is aimed to create a significant impact by making Oizom products & solutions robust and reliable.

We have multiple ongoing research projects with our knowledge partners like the University of Warwick and University of Salford in UK, Spanish University of Granada, Wuppertal University at Germany, Horiba process and environmental division, Germany, Some of the state pollution control boards in India like Kerala and Maharashtra, The CPCB, Bananas Hindu University and of course ATIRA at Ahmedabad.