Air quality in warehouses is a vital but often overlooked component of operations. Poor air quality can pose significant risks to employee health and productivity, not to mention the potential for serious legal and regulatory consequences. This article will delve into the importance of air quality monitoring in warehouses, highlighting potential pollutants, solutions, and the role it plays in overall efficiency.
Importance of Monitoring Air Quality in Warehouses
The air quality in warehouses directly impacts the health and productivity of employees. A 2019 study conducted by the World Green Building Council found that indoor air quality could increase productivity by up to 11%. With such compelling statistics, it becomes clear that warehouses should prioritise monitoring and improving their warehouse air quality.
Oizom offers a variety of AQBot variants, each designed to meet specific air quality monitoring needs. The AQBot is a dedicated, single-parameter air quality monitoring device, complete with a display for easy and immediate readings. This allows warehouse workers to closely monitor pollution levels, facilitating a proactive approach towards maintaining a safe and healthy environment.
Potential Risks and Pollutants in Warehouse Environments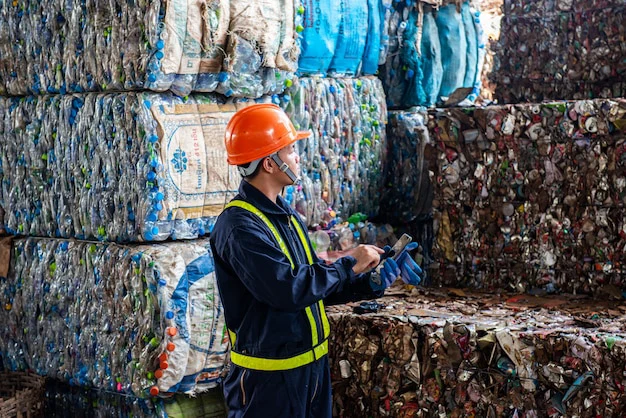 Warehouses, due to their function, are susceptible to a range of airborne pollutants. Depending on the stored materials and operational activities, warehouses pose potential risks like the following:
Airborne Dust:

This can be generated by various activities, including loading, unloading, and movement of goods. Prolonged exposure can lead to respiratory issues.

Chemical Vapours and Fumes:

These can arise from the storage or use of certain products and materials. Inhaling these can cause immediate and long-term health problems.

Biological Agents:

These include mould spores, bacteria, and other organisms that can flourish in certain conditions. They can pose health risks, especially to those with weakened immune systems.

Particulate Matter:

This includes particles that are so small they can be inhaled deep into the lungs. Sources may include vehicle exhaust, combustion processes, or certain types of machinery.

Gas Emissions: Certain processes or stored materials may emit harmful gases such as carbon monoxide or sulphur dioxide. These can cause serious health effects and can also be a fire risk.
Noise Pollution:

High noise levels can cause hearing damage over time and also contribute to stress and other health problems. 

Temperature Extremes:

Very hot or cold conditions can be a risk to health, especially for those who are not adequately protected.

Improper Ventilation:

Without proper ventilation, pollutants can accumulate, leading to an unhealthy work environment.

Hazardous Material Spills:

Accidental spills of chemicals or hazardous materials can pose immediate and severe health risks.

Pesticides:

If the warehouse stores agricultural products, pesticides might be a concern. They can affect air quality and pose potential health hazards.
Common Air Pollutants in Warehouses
TVOC (Total Volatile Organic Compounds)
TVOCs are a group of potentially harmful organic chemicals present in the air. They are emitted as gases from certain solids or liquids, such as paints and lacquers, cleaning supplies, pesticides, building materials, and furnishings.
CO is a poisonous, odourless, and colourless gas. It is a common byproduct of engines, furnaces, or stoves inside a warehouse and can cause health issues when concentrations become too high.
These naturally occurring substances can pose significant health risks when airborne. Asbestos was widely used in construction materials before the 1980s, and radon is a radioactive gas that can be found in nearly all soils.
Methane, Ethanol, Toluene, CO2, etc.
These gases are common in warehouses storing chemicals, petroleum products, or alcohol-based products. Their inhalation can lead to a variety of health issues.
Solutions for Monitoring Warehouse Air Quality
Advances in technology, like IoT-based systems and air pollution sensor modules, provide real-time monitoring solutions that are cost-effective and easy to implement. Companies such as Oizom offer advanced air monitoring systems that provide crucial data about indoor air quality, aiding in informed decision-making for improvements.
Possible solutions for monitoring warehouse air quality include:
Use Environmental Monitoring Systems: These systems typically include sensors for temperature, humidity, and air quality. For example, Oizom's Polludrone is an ambient air quality monitoring solution which measures various environmental parameters like Particulate Matter, harmful gases, radiation, noise, etc.
Implement Industrial IoT Solutions:

Use IoT devices to monitor the air quality in the warehouse continually. Oizom's IoT-enabled air quality monitors are particularly suited to this task.

Regular Inspections and Maintenance:

Regularly check and maintain the air quality monitoring system to ensure it's functioning properly. Also, conduct frequent manual inspections to cross-verify the data collected by the monitoring system.

Automated Alerts: Set up the system to send automated alerts when air quality levels reach dangerous or sub-optimal levels. This can allow you to take immediate corrective action. Oizom systems provide real-time data and alerts, enabling swift responses to changes in air quality.
Integration with HVAC Systems:

If your warehouse has an HVAC (heating, ventilation, and air conditioning) system, consider integrating the air quality monitoring system with it. This can automatically adjust the ventilation or filtration based on the detected air quality, improving the environment in the warehouse.

Data Analytics:

Utilise the data collected by the monitoring system for predictive analysis and trend spotting. Oizom's systems come with advanced analytics capabilities, providing valuable insights that can help in improving overall warehouse operations and employee safety.

Staff Training:

Train your staff about the importance of air quality and how to react in case of poor air quality conditions. This should include how to interpret readings from the monitoring system and what steps to take if levels become unsafe.

Compliance with Regulations:

Ensure that your air quality meets the standards set by local and international regulations. Regular monitoring and reporting can help with this.

Use of Personal Protective Equipment (PPE):

When poor air quality cannot be avoided, provide your employees with appropriate PPE, such as masks or respirators. Make sure that your team is trained in their use.

Regular Reviews:

Regularly review and update your air quality management strategy, making improvements as necessary based on data from the monitoring system and changes in warehouse operations or regulations.
Implementing Air Quality Control in Warehouses
Air Quality Control Systems and Filtration
Air quality control systems work by filtering the air and removing pollutants. High-efficiency particulate air (HEPA) filters are particularly effective at this, capable of removing 99.97% of particles that are 0.3 micrometres in diameter.
Ventilation and Circulation Improvements
Improving ventilation and air circulation in a warehouse can significantly reduce the concentration of indoor air pollutants. This could involve increasing natural ventilation, installing fans or HVAC systems, or using air purifiers.
Use of Air Quality Monitoring Technology
The use of advanced technology, such as the air quality monitoring systems provided by Oizom, can help maintain a healthy environment in the warehouse. These systems provide crucial data that can inform improvements and preventative measures.
Role of Carbon Monoxide Detectors
These detectors are essential for maintaining a safe working environment in a warehouse where engines or heating systems may be in use. They provide a warning when CO concentrations reach dangerous levels, allowing for prompt evacuation and remediation.
The Role of Air Quality Monitoring in Warehouse Efficiency
Optimising Air Quality for Employee Well-being
Research shows that poor indoor air quality can cause health issues, from minor ailments like headaches and fatigue to more serious conditions like respiratory and heart disease. By monitoring and optimising air quality, warehouses can improve employee well-being, reduce absenteeism, and increase productivity.
Impact on Overall Warehouse Operations
Improved air quality can lead to fewer equipment breakdowns, lower maintenance costs, and increased operational efficiency. In fact, according to the U.S. Environmental Protection Agency, improved air quality could result in an annual savings of $15 billion in healthcare and lost productivity.
Connection Between Air Quality and Productivity
There is a strong correlation between air quality and worker productivity. A study conducted by Harvard University revealed that cognitive performance scores for office workers were 61% higher in environments with below-average levels of indoor air pollutants.
The importance of air quality monitoring in warehouses cannot be overstated. By utilising technologies like those offered by Oizom, warehouses can ensure a safe and healthy environment for their employees, leading to improved productivity and operational efficiency. Ultimately, investment in air quality monitoring not only pays for itself but contributes significantly to a warehouse's overall success. 
Oizom's AQBot is specifically engineered to address the unique air quality monitoring needs of warehouses. Its real-time display offers a constant view of air quality metrics, enabling prompt decision-making to mitigate issues.
Then there's Oizom's Envizom, a web-based platform that offers remote monitoring capabilities. This allows warehouse managers to keep an eye on their facility's air quality from any location using any internet-enabled device. The system's automated reporting and alert features further enhance control, providing regular updates and issuing warnings whenever the air quality deviates from predefined standards. Thus, AQBot offers a comprehensive, user-friendly, and efficient solution to manage warehouse air quality effectively.