Combustible dust is a topic that might not frequently make headlines, but it is a critical safety concern in numerous industries. Understanding what combustible dust is, its risks, and how to manage those risks can be the difference between a safe workplace and a disastrous event. Let's delve into the basics of combustible dust to understand why it demands our attention.
What is combustible dust?
Combustible dust is one of the most commonly underestimated risks in various sectors. When left unchecked, this invisibly deadly threat has the potential to cause havoc. Let's take a closer look at what it is, the sectors it touches, potential hazards, and preventive actions.
Any material (finely divided solid particles) that can disperse in air, catch fire, and explode when exposed to an ignition source is considered combustible dust. Combustible dust can consist of materials in the physical states of powders, flakes, fines, fibres, etc. Let us understand in layman's terms with an example, First, there needs to be a presence of an ignition source—a flame, a spark, or any heat source. Second, the suspended dust's concentration in the air should be optimal for combustion. Lastly, oxygen, an essential ingredient for combustion, needs to be present in adequate amounts.
Industries Affected by Combustible Dust
A myriad of industries face the threat of combustible dust. These sectors range from agriculture and food processing to more industrial arenas like metalworking, woodworking, and chemical manufacturing. Some everyday materials that constitute combustible dust include:
Food and Agricultural Products: Items such as flour, sugar, grains, wood sawdust, and cotton dust fall into this category.
Metals: Metallic dust like aluminium, iron, and magnesium.
Chemicals: A range spanning plastics, coal, rubber, and certain pharmaceuticals.
How does combustible dust become hazardous?
Combustible dust becomes hazardous when finely divided and suspended in air at a high enough concentration. As per OSHA, the minimum concentration of dust needed to create an explosion is the lower explosive limit (LEL). The LEL varies depending on the dust type, but it is typically around 10-40 grams per cubic metre.
Once a dust cloud is suspended in air and reaches its LEL, it can be ignited by a spark, flame, or other heat source. When the dust ignites, it burns rapidly and releases a large amount of energy. This energy can cause a pressure wave that travels through the air at speeds of up to 1,000 miles per hour.
According to DustEx Research Ltd., from 2016 to 2021, when combustible dust incident reporting was first launched, an average of 133 fires, 30 explosions, and 36 injuries occurred every year in the United States alone. Fatalities have ranged between one and six per year. Canada has fared better, with an average over the same time period of 3.5 explosions, 15.2 fires, and 4.2 injuries. Three fatalities occurred in Canada in 2021.
As per the stats from DustEx Research Ltd report, the following table compares the number of incidents, injuries and fatalities overall across the globe.


What is the technical definition for combustible dust?
In various industrial settings, a potential hazard that frequently goes unnoticed but can have catastrophic consequences is combustible dust. To address this threat and ensure workplace safety, it is crucial to understand its technical definition and characteristics. However, there are four bodies which provide the technical definitions of combustible dust i..e. WHMIS 2015, NFPA, OSHA and Alberta's Occupational Health and Safety Code.
The technical definitions for combustible dust vary. For example, the Hazardous Products Regulation (for Workplace Hazardous Materials Information System (WHMIS) 2015) defines combustible dust as " a mixture or substance that is in the form of finely divided solid particles that, upon ignition, is liable to catch fire or explode when dispersed in the air".
The National Fire Protection Agency (NFPA) defines combustible dust as "a finely divided combustible particulate solid that presents a flash-fire hazard or explosion hazard when suspended in air or the process-specific oxidising medium over a range of concentrations" in Standard 652-2019, The Fundamentals of Combustible Dust.
Understanding the Characteristics of Combustible Dust 
Several attributes make combustible dusts particularly hazardous:
Fine Particle Size: These dust particles usually measure less than 500 µm in diameter, so they can easily become airborne. Moreover, their small size provides a substantial surface area conducive to combustion.
Low Ignition Energy: Such dusts have a minimum ignition energy threshold. Simply, even a minor spark or a brief flame can ignite them.
Wide Flammability Range: They are infamous for their wide flammability range, suggesting they can become incendiary across various concentration levels.
High Heat Release: Upon ignition, combustible dusts burn intensely and swiftly, releasing a significant amount of heat. This sudden heat release can instigate a pressure wave capable of moving at speeds close to 1,000 miles per hour.
Combustible Dust Examples
The concept of combustible dust might seem innocuous at first. After all, how can mere dust pose any significant risk? However, when certain finely divided solid materials come in contact with the right elements, they can lead to hazardous explosions. These elements include the presence of an ignition source, an optimal dust concentration in the air, and enough oxygen to support combustion.
Delving further into the realm of combustible dust:
Abrasives: Environments that involve abrasive processes can generate combustible dust like blast grit, grinding dust, or polishing dust.
Textiles: Apart from cotton, other textile-related dusts include wool and synthetic fibre residues.
Plastics: Various plastics, when milled or shaped, can produce PVC dust, polyethene dust, and polypropylene dust.
Wood Products: Beyond sawdust, wood products that are ground or cut, like wood chips or plywood, can also generate explosive dust.
Pharmaceuticals: While they provide healing, certain pharmaceutical products can be dangerous when processed. This includes dust from the tablet pressing, capsule filling, and granulation processes.
According to the US Bureau of Labor Statistics, Census of Fatal Occupational Injuries (CFOI) and National Safety Council, Injury Facts. Three notable incidents from 2022 that underscore the dangers include:
February 24, 2022: A Louisiana wood pellet plant witnessed a devastating explosion that claimed a life and injured 13 workers.
March 22, 2022: Another explosion at an Indiana food processing plant led to two fatalities and seven injuries.
April 18, 2022: A metalworking plant in Michigan had a blast that resulted in one fatality and three injuries.
Sources of Combustible Dust
When the appropriate conditions converge, combustible dust, a seemingly unnoticeable byproduct in different industries, has the potential for terrible effects. This comprises an ignition source, an adequate amount of dust in the air, and an adequate amount of oxygen. Enterprises must recognise and comprehend the sources of flammable dust to manage it properly.
Origins Across Different Sectors
An extreme increase of industries which grapple with the production of combustible dust, each with unique materials that have the potential to ignite:
Agriculture: This sector, responsible for food production, generates dust like grain dust, feed dust, flour dust, and cornstarch dust.
Food Processing: Processes that refine and convert raw ingredients often produce flour, sugar, spice, starch, and cocoa powder dust.
Woodworking: As wood is cut, shaved, or sanded, it generates sawdust, wood chips, plywood dust, and MDF (Medium Density Fiberboard) dust.
Metalworking: Operations involving metals produce dust from materials like aluminium, iron, magnesium, and titanium.
Chemical Manufacturing: As chemicals are synthesised or modified, they can produce dust, including plastics, coal, rubber, and various pharmaceuticals.
Apart from these industries, a variety of other environments can also become sources of combustible dust:
Textile Mills: As fabrics are processed, dusts like cotton, wool, and synthetic fibres emerge.
Pharmaceutical Plants: Manufacturing solid and powdered drugs, vitamins and nutraceuticals can create dust. Depending on the ingredients and processes you are using, this dust may be hazardous, combustible and/or toxic.
Abrasive Blasting Facilities: Processes that involve abrasion can create dust like blast grit, grinding residue, and polishing particles.
Power Plants: These facilities, especially coal-driven ones, produce coal dust and ash dust.
Recycling Facilities: The recycling of materials, be it plastics, paper, or rubber, leads to corresponding dust.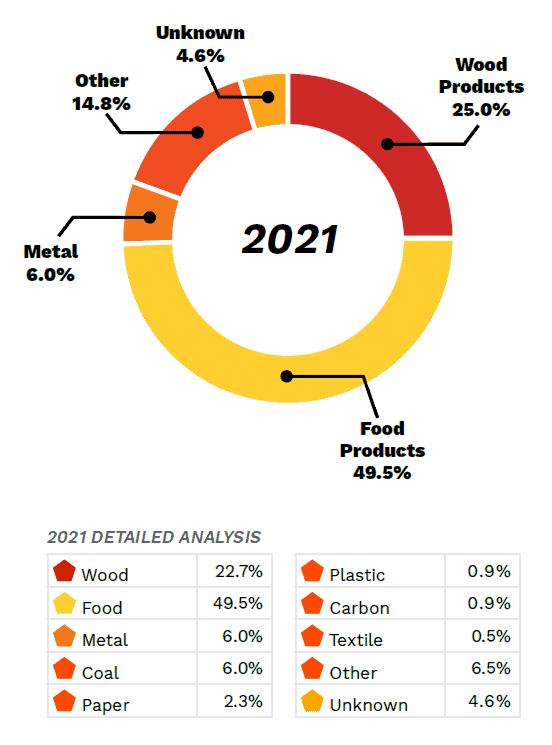 How do combustible dust explosions happen?
Combustible dust explosions are catastrophic events caused by the rapid ignition and combustion of small solid particles in the air. A combination of certain conditions causes these explosions, and knowing them is crucial for prevention.
The Five Crucial Conditions:
To set the stage for a combustible dust explosion, the following five elements, sometimes referred to as the "explosion pentagon," must simultaneously exist:
Combustible Dust: A specific concentration of combustible particles in the air is essential. This concentration, known as the lower explosive limit (LEL), typically lies between 10-40 grams per cubic metre, contingent on the dust type.
Ignition Source: Sparks, flames, or even excessively hot surfaces can serve as ignition points to set the dust alight.
Confinement: Confining the dust within a structure such as a silo, tank, or duct increases the pressure, amplifying the explosion's force.
Oxygen: For the combustion process to take place, a sufficient oxygen supply is necessary.
Dispersion: Dust must be adequately dispersed in the air, creating a cloud. Commonly, accidental spills, equipment malfunctions, or leaks are responsible for this dispersion.
The Explosion Dynamics
Upon ignition of a combustible dust cloud:
The initial combustion of dust particles releases heat.
This heat induces rapid particle expansion.
The expanding particles generate a formidable pressure wave, traversing through the air at velocities reaching 1,000 miles per hour.
This wave can wreak havoc on infrastructure and equipment and poses lethal risks to individuals nearby.
Types of Explosions
Two distinct explosions characterise the combustible dust phenomenon:
Primary Explosion: This is the immediate blast from the dust cloud's ignition.
Secondary Explosion: Following the primary, this explosion emerges from the re-dispersion and ignition of settled dust post-primary explosion.
How to Prevent Combustible Dust Explosion?
Understanding the genesis of combustible dust explosions is the key to their prevention. By taking proactive measures and training employees effectively, industries can substantially reduce the risks associated with these explosions. Below are detailed strategies to ensure safety:
1. Housekeeping
A critical factor in preventing combustible dust explosions is maintaining a tidy workspace:
Routine Cleaning: Regularly sweep, vacuum, and cleanse even the overhead areas and other challenging spots to ensure no dust accumulation.

Wet Suppression: Control dust using wet suppression techniques such as misting or fogging, which helps bind the dust particles.
Proper Waste Disposal: Always dispose of combustible dust waste in the appropriate manner to avoid any ignition risks.
2. Equipment Maintenance
Proper upkeep and management of equipment play a significant role:
Inspection: Consistently check equipment for any signs of wear and tear, such as cracks or deteriorating seals.
Prompt Repairs: Address and rectify any equipment damage without delay.
Dust-Free Equipment: Regularly clean equipment surfaces to prevent dust buildup.
3. Dust Collection and Control
Implementing and sustaining efficient dust collection and control mechanisms are fundamental:
Installation: Use effective systems such as dust collectors, cyclones, and baghouses.
Regular Maintenance: Consistently inspect and clean these systems, ensuring their optimal functionality.
Safe Locations: Always position dust collection and control systems away from potential ignition sources.
4. Ignition Source Control
Minimising ignition sources is pivotal in ensuring safety:
Eliminate Obvious Sources: Keep open flames, sparks, and overly hot surfaces away from areas prone to combustible dust.
Electrical Precautions: Employ equipment rated for hazardous locations to prevent unwanted sparks.
Static Electricity Mitigation: Ground and bond equipment to prevent static electricity buildup.
Welding Precautions: Ensure welding activities don't produce sparks that can ignite dust clouds.
5. Employee Training
Empowering employees through knowledge is essential:
Awareness: Train employees about various combustible dust types and the contributing factors to explosions.
Ignition Source Identification: Educate them on recognizing and mitigating ignition sources.
Equipment Handling: Instruct them on the safe usage of dust collection and control systems.
Emergency Protocols: Ensure they are well-versed in emergency procedures should an explosion occur.
How Do You Know if Dust is Combustible?
It is critical to determine the combustibility of dust in order to ensure worker safety. Combustible dust explosions can cause severe property damage and, more significantly, endanger human lives. Industries can better protect their people and assets by learning what combustible dust is and recognising its characteristics.
1. Characteristics to Consider:
Type of Material: Some substances naturally have a higher risk of being combustible. Common examples include wood dust in carpentry settings and metal dust in fabrication units.
Particle Size: It might sound counterintuitive, but smaller dust particles are generally more combustible. The larger surface area of finer particles facilitates quicker reactions with oxygen, making ignition easier.
Moisture Content: Dust with higher moisture content tends to be less combustible. The water molecules interfere with the dust's ability to react with oxygen, which diminishes the likelihood of ignition.
2. Tests to Determine Combustibility:
Professional tests can ascertain the explosivity or combustibility of dust. Key tests include:
Kst Test: This measures a dust explosion's severity. A dust sample with a higher Kst value denotes the potential for a more severe explosion. (Explosion Severity test).
Pmax Test: This evaluates the maximum explosion pressure. Essentially, it quantifies the potential intensity of an explosion.
Minimum Ignition Energy (MIE) Test: As the name suggests, this test identifies the smallest amount of energy needed to ignite a particular dust. Lower MIE values imply that dust can ignite more readily.
3. General Tips to Gauge Combustibility:
When in doubt about the nature of the dust, a precautionary approach is wise. However, some general tips can help identify combustible dust:
Dust Accumulation: Regularly inspect areas for dust accumulation. Areas with significant dust buildup are potential hotspots for combustion.
Smell the Dust: Certain combustible dusts emit characteristic odours. For instance, wood dust often gives off a sawdust-like smell. To identify the type of odours, you can use real-time air quality monitors like Oizom. It will identify the odour, and that way, you can take mitigation measures to mitigate the harmful odours.
Why Is Combustible Dust Hazardous?
The primary hazard is that combustible dust can catch fire, create a flash fire, or cause an explosion.
1. Inherent Risk of Explosion:
The potential for flammable dust to ignite and explode while suspended in the air resides at the heart of the hazard. When certain variables, such as an adequate concentration of dust, plenty of oxygen, and an ignition source, come together, they can result in a powerful explosion. The sheer force of an explosion can demolish buildings, damage machinery, and, regrettably, result in fatalities.
2. Health Implications:
Beyond the immediate risks of explosions, combustible dust poses several health challenges. When a dust explosion occurs, it can release noxious fumes into the atmosphere. Inhalation of these fumes can lead to respiratory issues, skin problems, and other health complications. Moreover, certain combustible dust types contain chemicals that, when inhaled or when they come into contact with the skin, can be toxic.
3. Environmental Concerns:
The environmental consequences of combustible dust are noteworthy. An explosion doesn't merely disrupt the immediate vicinity. The subsequent release of dust and pollutants can have lasting effects on the environment, contaminating water sources, soil, and affecting wildlife.
4. Diverse Industry Presence:
The omnipresence of combustible dust in a variety of industries underscores its potential hazard. Whether it's the agricultural sector dealing with grain and wood sawdust, the metal industry grappling with aluminium or magnesium dust, or the chemical sector managing plastics, coal, or pharmaceutical residues, the risks are omnipresent.
How to identify the hazardous combustible dust in the workplace
Hazardous combustible dust is a hidden danger in many sectors, causing devastating explosions, considerable property damage, and loss of life. As a result, identifying and addressing this hazard is critical. Employers can methodically identify areas of concern and adopt risk-mitigation strategies by following organised stages.
1. Area Identification:
The first step involves a meticulous survey of the entire workplace. Every area where materials are processed, stored, or handled needs to be flagged as potential zones where combustible dust may accumulate.
2. Dust Type Determination:
Each of these identified areas must be then evaluated for the specific types of dust present. Reviewing the material safety data sheets (MSDSs) offers insight into the characteristics and potential hazards of each material. Engaging with employees who interact with these materials daily can provide valuable on-ground insights. Furthermore, periodic visual inspections can assist in maintaining an up-to-date understanding of the dust types present.
The environmental implications of combustible dust explosions are multifaceted. Firstly, such incidents often lead to the release of significant volumes of particulates into the atmosphere. These particulates, depending on their chemical makeup, can contribute to air pollution, exacerbating respiratory ailments in the population and contributing to the global burden of disease. Furthermore, the aftermath of an explosion could involve the dispersal of harmful chemicals that contaminate the soil and water, impacting local ecosystems and potentially entering the food chain.
Secondly, the imperative to identify and mitigate combustible dust hazards is not just a matter of regulatory compliance or worker safety; it's a commitment to environmental stewardship. By preventing potential explosions, businesses can limit their environmental footprint, ensuring that they are not unintentionally contributing to broader environmental degradation.
Moreover, in our globalised era, industries are increasingly interconnected. A lapse in safety in one unit can have declining effects on supply chains, potentially putting in danger the sustainability efforts of other businesses. Thus, managing combustible dust hazards is also about preserving the complicated web of inter-industry relationships, crucial for the broader goals of sustainable development.
How is combustible dust different from other types of dust?
Combustible dust is a finely divided solid material that can ignite and explode when suspended in air under certain conditions, such as the presence of an ignition source, the right concentration of dust in the air, and sufficient oxygen. Other types of dust, such as construction dust and pollen, are generally not considered to be combustible.
What materials can become combustible dust?
A wide variety of materials can become combustible dust, including:

Agricultural products: grain, feed, cornstarch
Food products: flour, sugar, spice, starch, cocoa powder.
Wood products: sawdust, wood chips, plywood dust, MDF (Medium density fibreboard) dust
Metal products: aluminium dust, iron dust, magnesium dust, titanium dust.
Chemical products: plastics dust, coal dust, rubber dust, pharmaceutical dust.


What industries are at risk for combustible dust incidents?
The following industries are at risk for combustible dust incidents:
Agriculture
Food processing
Woodworking
Metalworking
Chemical manufacturing
Pharmaceutical manufacturing
Powder coating
Plastics manufacturing
Textiles
Mining
Power generation
What are the regulatory standards for managing combustible dust?
There are a number of regulatory standards for managing combustible dust, including:
Occupational Safety and Health Administration (OSHA) Hazard Communication Standard (HCS) 29 CFR 1910.1200.
OSHA Combustible Dust National Emphasis Program (NEP)
National Fire Protection Association (NFPA) 652 Standard on the Fundamentals of Combustible Dust
NFPA 61 Standard for the Prevention of Fires and Dust Explosions in Agricultural and Food Processing Facilities
NFPA 664 Standard for the Prevention of Fires and Dust Explosions in Wood Processing and Woodworking Facilities
NFPA 484 Standard for Combustible Metals
NFPA 654 Standard for the Prevention of Fire and Dust Explosions in the Chemical, Dyestuff, and Pharmaceutical Industries
Can combustible dust testing help prevent incidents?
Yes, combustible dust testing can help prevent incidents by identifying potential hazards and providing information on how to mitigate them. Combustible dust testing can be used to determine:
The type of dust present
The particle size distribution of the dust
The moisture content of the dust
The minimum ignition energy (MIE) of the dust
The maximum explosion pressure (Pmax) of the dust
This information can be used to develop and implement effective dust collection and control systems, as well as to train employees on the hazards of combustible dust and how to prevent explosions.
Thanks for your feedback!