Wind speed and Direction Sensor Module
Ultrasonic 2D Anemometer for weather monitoring applications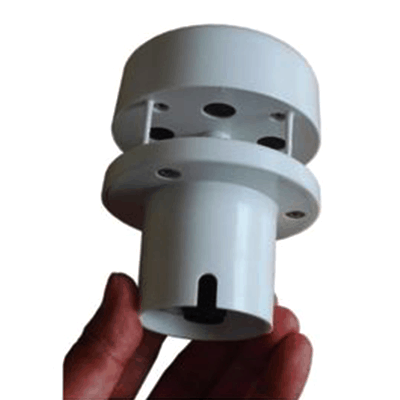 The Ultrasonic 2D Anemometer is a compact ultrasonic wind speed and wind direction sensor. It is designed to simultaneously measure the 2-dimensional horizontal components of the wind speed and direction. Using an ABS shell, a lighter but robust structure is offered. With a built-in intelligent heating module, It works normally under extremely cold and freezing weather conditions.
The advanced support electronics of this sensor makes it compact and reliable. The wind speed and direction sensor module comes as an external accessory. It can be integrated with our Ambient air quality monitoring station range, Odour monitoring device range, and Weathercom ambient weather station.
The sensor module casing is a plug and play module. The sensor works on Ultrasonic technology. With no moving parts, the sensor module provides long term accurate results with low maintenance. The module is robust and works with great stability in extreme weather conditions. Also, this module has shown great long term stability and accuracy.
All our products can be integrated with this sensor module. Therefore, this module is ideal for Traffic control, Meteorology, Oil drilling platform, Marine application, Industrial automation, Windpower plant, and Weather station.
Specifications of the Wind speed and Direction sensor module are listed below:
Windspeed:
Measurement Range: 0-40m/s
Sensor Life: 2 years
Minimum detection limit: 0.1 m/s
Working Principle: Ultrasonic
Wind Direction:
Measurement Range: 0-359°
Sensor Life: 2 years
Minimum detection limit: 1°
Working Principle: Ultrasonic